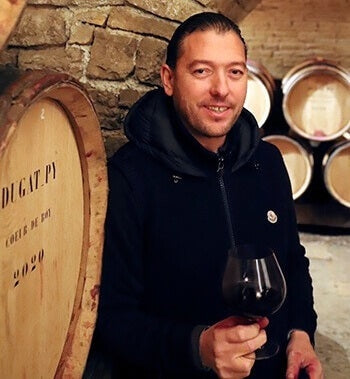 Bernard Dugat-Py
Dugat-Py is a family-owned estate located at the base of the Combe de Lavaux in Gevrey-Chambertin, Burgundy, that has been producing world-class wines since 1975. Bernard Dugat founded the estate, and his son Loïc is now in charge. The family has been winegrowers in the Gevrey-Chambertin appellation for over four centuries, and their expertise has been passed down through 13 generations.

Dugat-Py owns 9.5 hectares of Pinot Noir and one hectare of Chardonnay. Loïc is particularly passionate about old vines, with the estate now owning vines aged 65 to over 100. Consequently, nearly every wine in the line-up is designated as Vieilles Vignes or Très Vieilles Vignes. They tend to these mature vineyards with meticulous care, using homemade biodynamic ingredients as fertilizer, and the 1er Cru and Grand Cru sites are horse-plowed. The vines are never trimmed, allowing the canopies to reach seven or eight feet in the summer months.

Since Loïc took over the family business, there has been a clear evolution in the vineyards and the winery. The estate has been certified biodynamic since 2003, and Loïc does not chaptalize, acidify, inoculate, or add anything to juice, with sulfur being the only addition made before bottling. The wines are still deep and powerful but have more balance and finesse than ever. The alcohol rarely surpasses 13.5%, and harvest now occurs on the earlier side to retain freshness and elegance.

The estate's most famous vineyard, Chambertin, is located mid-slope between 853 feet and 984 feet in elevation and enjoys cool breezes from the Combe Grisard above and the south side. Dugat-Py is the only producer in Gevrey-Chambertin that picks grapes early in the season, resulting in a unique expression of the terroir. The Chambertin vines in their plot are more than 90 years old, and the annual production of this wine is only 220-270 bottles. The wine is traditionally vinified with a single punch-down and pump-over daily while fermenting and aged for 18 to 26 months in 100% new oak casks. The wine is bottled non-filtered.

In summary, Dugat-Py is a top-class estate that has risen to prominence in the last few decades. The family's expertise in winemaking and working in the vines has been passed down through 13 generations. The estate's dedication to organic and biodynamic viticulture, old vines, and traditional winemaking techniques result in wines that are unique expressions of the terroir. The estate's Chambertin vineyard is particularly noteworthy, with its early picking resulting in a wine with exceptional depth and complexity.
No Results Found
We're so sorry to disappoint, but it looks like we don't have anything matching your search at this time. To receive an alert if something becomes available in the future, please click the button below.