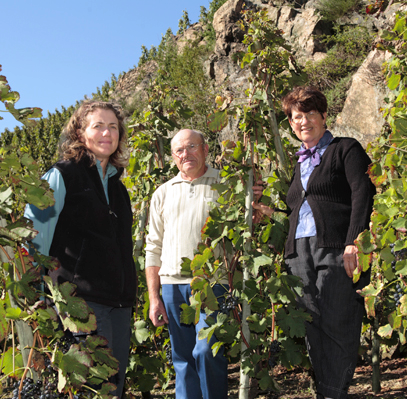 Bernard Levet
For over a century, Domaine Bernard Levet has been exclusively producing wine from the steep hillsides of Cote Rotie. Today, the family-owned estate is run by husband and wife team, Bernard and Nicole, who are joined by their daughter Agnes, who also happens to be the artist behind the label's artwork. All three and a half hectares of vineyards are located in the town of Ampuis, and the family works diligently to preserve the natural biodiversity of the soil, which results in wines that are reflective of their unique terroir.

Despite the family's commitment to traditional winemaking techniques, there has been a notable uptick in the quality of their wines since Agnes joined the team. This is evident in their flagship wine, La Chavaroche, which is made from 100% Syrah from Cote Brune and is known for its captivating aromatics and ageability. The wine is named after Agnes's grandmother and is a testament to the family's dedication to preserving their heritage.

In addition to La Chavaroche, Bernard Levet also produces Les Journaries, which is sourced from a single parcel of La Landonne. This vineyard might sound familiar to Northern Rhone connoisseurs as it is the same vineyard from which E. Guigal sources their La La's. Both wines are made with minimal intervention in the cellar to allow the natural flavors and aromas of the grapes to shine through.

Overall, Bernard Levet wines are a true testament to the beauty and power of the Rhone Valley. Their commitment to traditional winemaking techniques and respect for the land is evident in every bottle. With Agnes now part of the team, the estate is poised to continue producing exceptional wines for years to come.
No Results Found
We're so sorry to disappoint, but it looks like we don't have anything matching your search at this time. To receive an alert if something becomes available in the future, please click the button below.