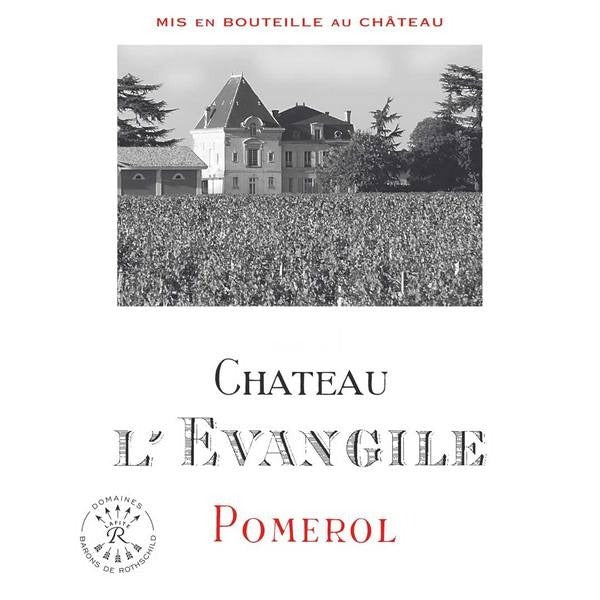 Chateau L'Evangile
Nestled within the esteemed Pomerol appellation, Château L'Evangile has woven a tapestry of tales through its exquisite wines. With roots reaching back to the 18th century, this venerable estate is among the region's most time-honored. Spread across a generous 35 acres, its vineyards are blessed with a distinct terroir, a harmonious blend of gravel nestled within the local clay. This marriage of elements has long been lauded for its unmatched capability to birth truly exceptional wines. The vineyard holdings of Château L'Evangile are bordered by Château Pétrus to the north and neighboring Château Cheval Blanc in Saint-Emilion to the south. This prime location contributes to the estate's exceptional reputation.

The vineyard is like a living history book, with vines that have been around for about 30 years. This age gives the grapes a rich depth and a certain sophistication. Most of the vines, about 80%, are Merlot. This is why our wine has that fruity punch and smooth charm. The other 20%? That's "Bouchet", what the locals call Cabernet Franc. It adds a touch of elegance and a sturdy backbone to the blend.
The viticultural practices at Château L'Evangile are meticulous, with traditional techniques and a commitment to manual labor. The harvest is carried out by hand, ensuring the selection of only the finest grapes. The estate embarked on a conversion to organic farming in 2018 and achieved 100% organic certification in 2021, demonstrating its dedication to sustainable viticulture.

Vinification takes place in temperature-controlled cement vats, allowing for precise control over fermentation. The estate practices pumping over and controlled maceration techniques, extracting optimal color, aromas, and flavors from the grapes. Malolactic fermentation occurs in barrels, contributing to the wine's smoothness and complexity.

After fermentation, Château L'Evangile's wines are aged in French oak barrels and clay amphorae for approximately 18 months. Around 70% of the barrels used are new, ensuring the integration of oak influences while preserving the wine's inherent character. The resulting wines display a full-bodied and powerful style; they possess an exceptional ability to age, with top vintages offering a captivating bouquet of plums, chocolate, and floral notes, captivating the senses with their complexity and long-lasting finish.

Château L'Evangile's commitment to quality is further demonstrated by the creation of its second wine, Blason de L'Evangile. Crafted from selected vats of the "Grand Vin," it shares many characteristics with its flagship counterpart but is designed to be enjoyed at a younger age, with a shorter barrel aging period.

Château L'Evangile, steeped in a rich heritage, boasts some of the finest vineyard plots in the region. Their attention to detail in winemaking is nothing short of artistry. For those of us with a passion for wines, what comes out of their estate is sheer magic. The depth, the elegance, and the promise of graceful aging from their bottles truly embody the essence of Pomerol's land. It's evident they are devoted to letting the terroir speak through every sip.

No Results Found
We're so sorry to disappoint, but it looks like we don't have anything matching your search at this time. To receive an alert if something becomes available in the future, please click the button below.