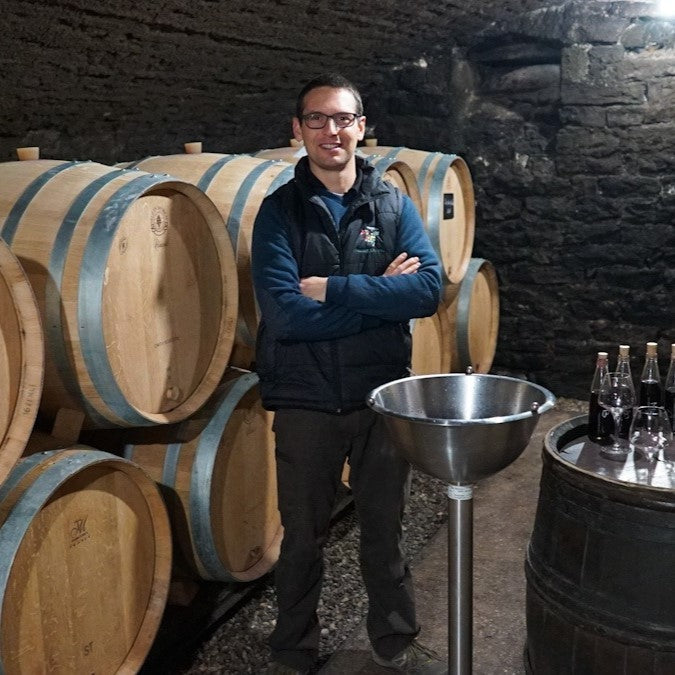 David Moreau
David Moreau, a rising star in the world of viticulture, is the mastermind behind the unique wines produced in Santenay, a quaint spa town situated at the southern end of the Côte de Beaune. Moreau's journey began alongside his grandfather in their family vineyards, and despite initial disagreements with his father, he eventually took full control of the estate after gaining valuable insights from various prestigious wine producers.
A product of the renowned Lycee Viticole de Beaune and the Institute Jules Guyot at the University of Burgundy, Moreau's education has been supplemented with experiences from esteemed estates across the globe. His internships, ranging from François Perrin of
Beaucastel
in Chateauneuf-du-Pape to the Neudorf Vineyards in New Zealand, have provided him with diverse and essential knowledge for the cultivation of his unique Burgundy wines.
Moreau is aided by his wife, Blandine, and their competent team of winegrowers, Jacek and Lucie. The priority for the team has been the transition to organic farming. They meticulously oversee the viticulture and cellar work, crafting wines that are clean, pure, and faultless. The wines highlight savory earth and soft red floral notes, followed by charming red and black fruits - a testament to the strength of each vineyard site.
The Santenay region, although only recognized as an appellation in 1970, is earning a reputation for high-quality, value-driven Burgundy wines. The terrain, steeped in history, lends itself to wines that are earthy, bearing wild fruit and forest notes with a rich mineral impression due to the distinctive limestone terroir.
Moreau's vineyards yield a variety of red and white wines. The reds include a fruit-forward
Côte de Beaune Village
and a rich and full-bodied
Santenay Cuvée "S"
. The whites include a well-balanced
Santenay Blanc
highlighted by floral notes and stone fruit and a sophisticated 
Santenay Blanc 1er Cru "Beaurepaire" 
matured with 25% new oak, giving the wine some nice complexity. Each wine is a reflection of its specific terroir, expressing unique flavors based on the vineyard's individual characteristics.
In terms of vinification, the red grapes are hand-picked, sorted, partially de-stemmed, and fermented with wild yeast. Post-fermentation, the wine matures in Burgundian oak barrels, and during this period, the barrels are topped up weekly to retain the wine's fruit aromas. The white grapes, on the other hand, are pressed gently as whole bunches and fermented by wild yeasts either in oak barrels or tanks.
Moreau's goal is to achieve an impeccable balance in his vines and to bring out the best in each plot. His tenacity and dedication to the vineyards are evident in the quality of wines produced under his stewardship. He combines his acquired knowledge from esteemed estates, his innate feel for viticulture, and the natural terroirs of Santenay and Maranges to create wines that encapsulate the essence of Burgundy.
No Results Found
We're so sorry to disappoint, but it looks like we don't have anything matching your search at this time. To receive an alert if something becomes available in the future, please click the button below.