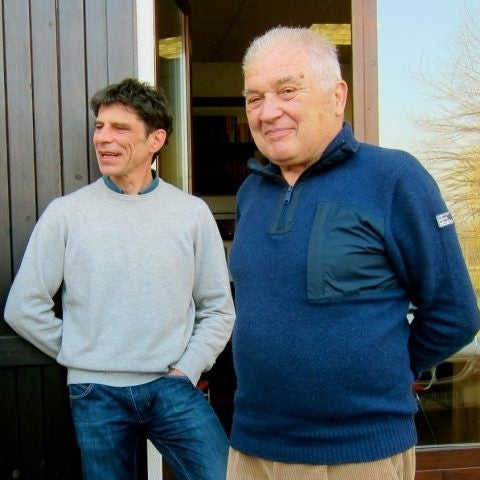 Ferrando
Ferrando, a fifth-generation family winery nestled in the Piedmont region of Italy, is emblematic of a pioneering spirit in viticulture and winemaking. Established in 1890 by Giuseppe Ferrando and later expanded by his son Luigi, the winery stands as a testament to the allure of Nebbiolo and the charm of the Canavese region.

Ferrando's wines shine through their distinct typicity, emphasizing the interplay between varietal, vineyard, and winemaking techniques. In 1957, Giuseppe Ferrando Jr. embarked on crafting Carema, an unparalleled expression of Nebbiolo that is often referred to as a mountain Barolo. The vineyards, erected near the Piedmont-Valle d'Aosta border, are nurtured in the unique topie system - arbors propped up by stone pillars, creating a natural thermal reservoir that mitigates the region's chilly nights. The grapes thrive in morainic soils, rich in diverse nutrients, adding to the multifaceted character of the wines.
Ferrando's Carema is produced in two selections, the White Label and Black Label, which further exemplify the family's commitment to excellence. Both wines undergo similar vinification and aging processes, yet they offer distinct sensory experiences: the White Label offers a bouquet of spicy, fruity notes and delicate aromas of dried flowers and roses, while the Black Label presents a more intense profile with more tannin and muscle.
Currently, under the leadership of Luigi's son, Roberto Ferrando, the winery maintains its unwavering dedication to preserving local grape varieties and traditions, contributing to the revival and recognition of the Canavese region's oenological heritage. Ferrando's meticulous vineyard management, coupled with their minimalist winemaking approach, guarantees wines that mirror the richness of their terroir, making them worthwhile additions to any discerning wine collector's repertoire.
No Results Found
We're so sorry to disappoint, but it looks like we don't have anything matching your search at this time. To receive an alert if something becomes available in the future, please click the button below.