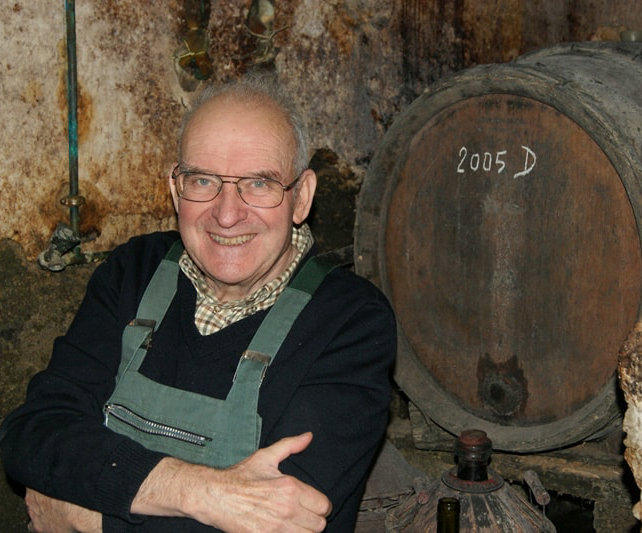 Henri Bonneau
The legendary Henri Bonneau, one of Châteauneuf du Pape's acclaimed winemakers, is a name held in high regard within wine circles. His lineage of winemakers dates back to the 17th century, a tradition now upheld by his son, Marcel Bonneau. The family estate, richly populated by approximately 90% Grenache and complemented by Mourvedre, Syrah, Vaccarese, and Counoise, stands testament to their minimalist approach in winemaking - a practice admirably preserving the purity, texture, and impressive longevity of their wines.

The Bonneau winery defies modern standards, with its vintages aging for 3-5 years (often more) in barrels aged between a decade to a century. The ancient, mold-infused cellar, often likened to a bat cave, bears the hallmarks of an age-old winemaking tradition, a testament to their dedication to authenticity and quality. This rustic setting of cobweb-laden catacombs gives birth to some of the most sought-after wines in Châteauneuf du Pape.

Perhaps the most noteworthy bottle of the Bonneau lineage, the "Reserve des Celestins," stands among the finest in Châteauneuf, often referred to as "mythic" and highly sought after by wine enthusiasts. In his own words, Robert Parker once lauded the experience of tasting Bonneau wines as a privilege.

Bonneau's domain covers only 6.5 ha, predominantly sown with Grenache. The winemaking process is simple yet elegant; once the fermentation in cement tanks is complete, the wine is transferred to a mixture of foudres, demi-muids, and ancient barrels, aging until deemed ready for bottling by the Bonneaus themselves - a testament to their discretion and mastery. Like stepping into a time machine, their wines represent a wine-making tradition undisturbed for centuries, thus satisfying various preferences among wine enthusiasts worldwide.

No Results Found
We're so sorry to disappoint, but it looks like we don't have anything matching your search at this time. To receive an alert if something becomes available in the future, please click the button below.