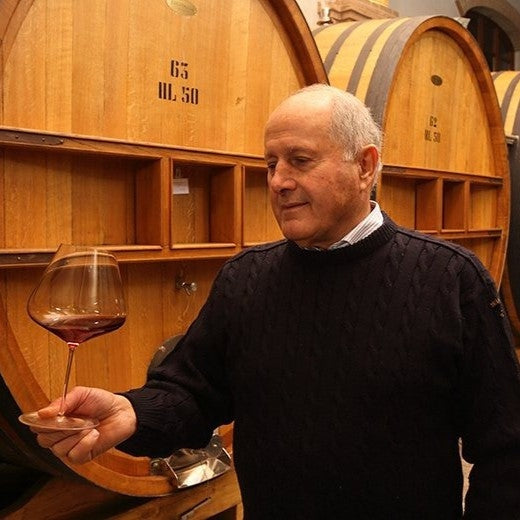 Paolo Scavino
Situated in the heart of the prestigious Barolo region, Paolo Scavino, led by the Scavino family - Enrico and his daughters Enrica and Elisa, brings to the table a rich legacy of crafting superb, cru-specific wines that beautifully reflect their unique terroirs. Despite an impressive history that dates back to 1921, Enrico Scavino is still pushing the boundaries of winemaking. His quest for perfection led him to design a specialized fermentation vessel in 2007 to refine the extraction process of his Barolo wines, enhancing their finesse.

Enrico's dedication to vinifying his wines parcel by parcel shines through in the variety of his offerings. He cultivates multiple revered vineyard plots, spanning from the traditional Barolo region to neighboring communes, including Cannubi in Barolo, Rocche Annunziata in La Morra, Bricco Ambrogio in Roddi, and the esteemed Monviglero in Verduno. These diverse holdings showcase the winery's drive to express the diversity and richness of the Piedmont region.

Throughout generations, the Scavino family has consistently prioritized the health and hygiene of their grapes and winery, a principle that goes hand-in-hand with their forward-thinking adoption of technology. The arrival of roto fermentors in 1993 marked a shift in their winemaking approach, and by the late 1990s, traditional Slavonian casks were replaced with French oak. Yet, the family's commitment to quality control is unwavering. To ensure that only the best is bottled under their name, they prefer to sell 10-30% of their production in bulk rather than compromise on their high standards.

The estate's meticulous approach extends to their vineyard management, with each cru and sub-cru vinified separately using native yeasts, followed by a careful selection of the best-performing plots. The wine then undergoes a specific aging process: 10 months in neutral French oak barrels, a year in large casks, ten months in stainless steel, and a final ten months in the bottle.

Nestled in the Verduno village, Monvigliero is known as the "grand cru" of the area. The Scavino family first vinified this vineyard separately in 2000 and purchased it outright in 2007. This southeast-facing plot enjoys a light-colored limestone soil mixed with chalky veins, lending the wines a great finesse and aromatic complexity. The Barolo from Monvigliero is renowned for its floral, spicy, and savory profile, complete with a distinct balsamic note.

Located in Castiglione Falletto, the Bric Dël Fiasc vineyard sits at an altitude of 260m. The Nebbiolo grapes from this vineyard were always considered exceptional, leading Enrico to produce a single vineyard Barolo here starting in 1978. The soil, a mix of Tortonian and Helvetian limestone and sandstone, helps create wines that perfectly balance elegance and power. The resulting Barolo Bric Dël Fiasc offers earthy undertones and vibrant, refined tannins lifted by balsamic and red fruit notes.

With 29 hectares of meticulously managed vineyards, the Scavino family has crafted a world-renowned legacy, setting a high bar for wine production in the region. The wines from Paolo Scavino are a testament to the family's unwavering dedication to quality and the authentic expression of the Piedmont terroir. They are truly unique and worthwhile additions to any wine collection or meal.
No Results Found
We're so sorry to disappoint, but it looks like we don't have anything matching your search at this time. To receive an alert if something becomes available in the future, please click the button below.