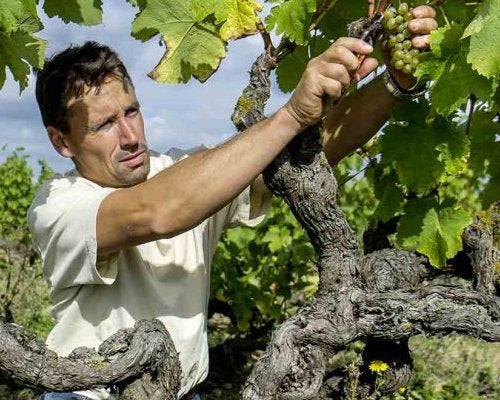 Stephane Bernaudeau
Stephane Bernadeau is a winemaker in the Loire Valley who has honed his craft over 20 years, first as an assistant winemaker at
Ferme de la Sansonniere
and then as a winemaker in his own right. He is known for his expertise in producing elite-level Chenin Blanc, Cabernet Franc, and Cabernet Sauvignon wines that reflect the unique terroir of the region.
His vineyards are located in the Anjou and Saumur regions, where the soils are composed of schist and slate, imparting a distinct minerality to the wines. He is committed to sustainable and environmentally conscious practices in the vineyard and winery, ensuring that the land is preserved for future generations.
Stephane's prized parcel is his 30 rows of Les Nourrissons, with vines planted in 1910 (!), rooted in a complex mix of rocky-schist soils. This site, along with Les Ongles and Les Terres Blanches, are meticulously farmed using biodynamic methods and horse-drawn plows. In the cellar, ripe, whole clusters are pressed and undergo natural primary fermentations, with minimal use of sulfur to allow the pure, linear fruit to shine.
These wines have incredible depth and length of fruit, great breed, and a firm spine of acid for aging. Made in a reductive style, they are highly sought after by wine collectors and connoisseurs for their exceptional quality, unique terroir expression, and commitment to sustainability. Whether you're a seasoned wine collector or a new enthusiast, Stephane Bernadeau's wines are a must-try.
No Results Found
We're so sorry to disappoint, but it looks like we don't have anything matching your search at this time. To receive an alert if something becomes available in the future, please click the button below.