1988 Domaine Georges Mugneret-Gibourg Echezeaux
#103347430
Add to Favorites
Ridiculously low 2-day shipping. Add to cart to calculate cost.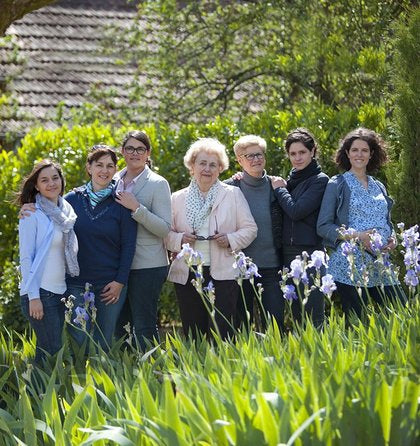 Located in the heart of Burgundy, Domaine Mugneret-Gibourg is a cherished gem that has consistently produced wines of exceptional caliber. Celebrated for their finesse, authenticity, and depth, the wines from this Vosne-Romanee based estate have become highly sought after among oenophiles and collectors.

The domaine was established in the 1930s by Jeanne Gibourg and Andre Mugneret. Their son, Georges Mugneret, carried the mantle forward despite his successful ophthalmology career. Driven by a deep-rooted passion for viticulture, Georges was able to leverage his medical success to acquire premier parcels in the Cote de Nuits, and subsequently launch his own winery. Today, the estate, managed by Georges' daughters, Marie-Christine and Marie-Andree, stands as a testament to this enduring legacy. Their dedication to perfection and relentless pursuit of quality has firmly positioned Domaine Mugneret-Gibourg among the top echelon of Burgundy producers.

The wines from this domaine, though scarce in availability, offer an unparalleled tasting experience. A pure expression of terroir and meticulous winemaking, these wines showcase a fine balance between bright, spicy notes, and layered complexity. Each bottling is a testament to the estate's commitment to excellence, with the lineup easily outperforming its counterparts across each level. The coveted Bourgogne Rouge, for instance, demonstrates the estate's meticulous approach to winemaking, with carefully hand-harvested grapes undergoing stringent sorting and natural fermentations before maturing in oak for about 18 months. The resultant wines are supremely refined, offering silky, energetic profiles that have become the signature of Domaine Mugneret-Gibourg.

Elevation to the village wines brings with it an elevated experience in terms of complexity and depth. The Vosne-Romanee, made from a blend of five parcels with vines as old as 70 years, is framed by 20% new oak, resulting in a wine that beautifully balances dark fruit, spice, and black tea notes. Since 2017, the Vosne La Colombiere, sourced from a family-owned parcel, adds to the domaine's impressive portfolio with its greater concentration and persistent finish.

Moving to the Premier Cru holdings, Les Vignes Rondes and Les Chaignots, both based in Nuits St. Georges, offer intriguing variations in structure and fruit profiles. The former is firmer and red-fruited, while the latter introduces darker berries, exotic spices, and racier acidity. The domaine's other Premier Cru, Les Feusselottes in Chambolle-Musigny, is emblematic of the village's charm and elegance, exhibiting a mineral core veiled in floral and silken red fruits.

The domaine's Grand Crus are noteworthy for their exceptional aging potential. Echezeaux, a part of the original family holdings, exhibits rich, savory profiles with velvety red fruits, complex spices, and earthy undertones. Their plot of Ruchottes-Chambertin, located in the finest part of the vineyard above Mazis-Chambertin, has old vines and incredibly rocky soils, bringing a stony, truffley edge to the darker fruit and meaty notes. Intense, brimming with character, but seamless and weightless all the same. Clos Vougeot was Georges' first purchase and a smart one. The old vines sit at the chateau, embedded in the primary mother rock, with virtually no topsoil. Impeccably balanced, and flat out one of the finest examples of this vineyard. Large-scaled, but finessed into a harmonious, compelling core, packed with complex ripe fruits and underbrush, sappy acids, and fine structure.

In essence, Domaine Mugneret-Gibourg has upheld its status as an insider's secret in the world of Burgundy, offering an exquisite lineup of wines that reflect an unwavering commitment to quality. It is no wonder, then, that when Burgundy insiders ponder the finest in the region, they think of the Mugneret sisters and their extraordinary work. Despite the limited quantities, the wines of Domaine Mugneret-Gibourg are worth every effort to secure, for they are truly some of Burgundy's most enticing offerings.