1989 Camille Loye Trousseau Arbois Cuvee Saint Paul
#155887421
Add to Favorites
Ridiculously low 2-day shipping. Add to cart to calculate cost.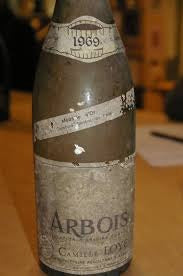 Camille Loye is a legendary old-school grower in the Jura. Now retired, he left an indelible mark on the region as a whole. He produced Trousseau and Chardonnay of the highest caliber, bottled only in great vintages such as 1969, 1973, 1976, 1982, 1983, 1985, 1987, 1988, and his last vintage: 1989. During the lesser vintages, Loye sold his grapes to other winegrower friends.

Loye's wines are soulful, savory, and extraordinarily complex. He only bottled the best vintages and sold the rest, making his wines extremely rare and highly sought after. The 1989 Chardonnay St. Paul, in particular, is a legend among the few lucky enough to taste it.

Loye's vineyard holdings were extensive, but he only produced wine in small quantities. During his heyday, he stored his wines in a super cold cellar under his house, ensuring that they aged to perfection. When you drink a bottle of Loye's wine, you are not only enjoying a Jurrasic history but also taking a glimpse into the mastery of a bygone era.