1993 Ruinart Champagne Dom Ruinart Blanc de Blancs
#170299621
Add to Favorites
Reviews 94 points John Gilman "The outstanding nose jumps from the glass in a blend of baked apple, toasted nuts, chalky minerality, brioche and a nice touch of orange peel in the upper register. On the palate the wine is deep, full-bodied, crisp and wide open in personality, with a lovely core, elegant mousse and superb length and grip on the focused and complex finish. (JG)"
Ridiculously low 2-day shipping. Add to cart to calculate cost.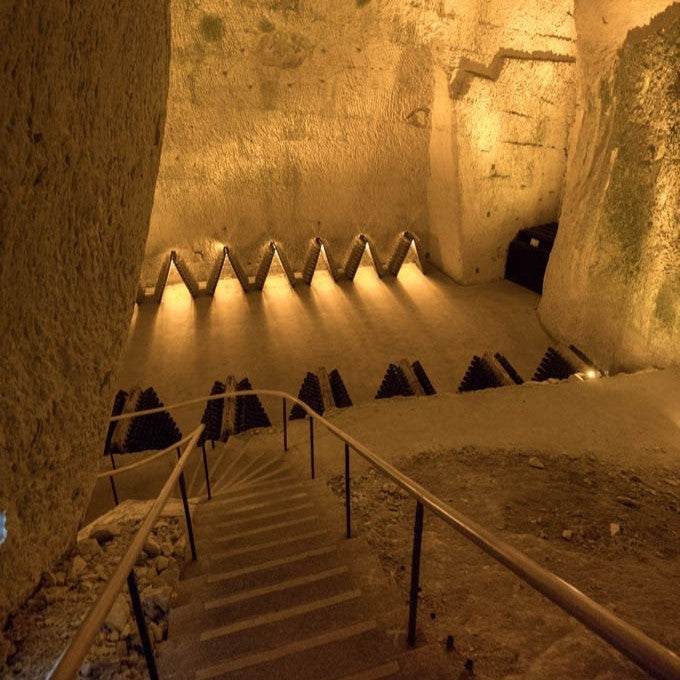 Established in Reims in 1729, Maison Ruinart represents the world's first-ever champagne house, a beacon of winemaking tradition approaching its third century of operation. Beneath the city of Reims, Ruinart houses its wines in ancient chalk quarries, the Crayères, offering perfect aging conditions.
Ruinart's winemaking methods prioritize quality through meticulous attention to detail. The juice extraction process is progressive and gentle, maximizing the grapes' aromatic potential. This juice is then fermented in thermo-regulated stainless steel vats to preserve its subtle aromas and freshness. An ensuing malolactic fermentation tempers the wine's acidity, introducing a depth of subtlety.
During blending, Cellar Master Frederic Panaïotis orchestrates a symphony of the senses, aiming for a balanced, harmonious blend representing the enduring Ruinart Taste. Every clear wine is tasted and assessed, and its nuances are articulated through calculated blending over time.
The gentle handling of Ruinart's wines extends to the riddling process, an exacting transformation of each bottle's orientation to consolidate sediment. This procedure, executed by gyro palettes or by hand for prestigious cuvées, is followed by the disgorging of sediment, performed by hand for exceptional cuvées under the watchful eye of the Cellar Master. 
Ruinart's unique bottle shape pays homage to its 18th-century predecessors, a nod to their rich history captured in Jean-François de Troy's painting, "Luncheon with Oysters."
Ruinart's vineyard holdings predominantly lie in the Montagne de Reims, producing cuvées such as the 
Blanc de Blancs
, a blend of 25–30 chardonnay crus primarily from the Côte des Blancs and Montagne de Reims, and the harmonious Ruinart 
Rosé
, a balanced blend of chardonnay and pinot noir. For 
Dom Ruinart Blanc de Blancs
 and 
Dom Ruinart Rosé
, only Grand Cru chardonnays and pinot noirs are selected. 
For 
these 
esteemed Dom Ruinart cuvées, the ancient technique of entreillage, stacking on wooden boards, is employed for a slow, eight-year maturation, further extended for the Dom Ruinart La Réserve.
These distinguished champagnes mature for years in the cool Crayères under constant conditions, revealing a remarkable density of texture and vibrant freshness. Each bottle is hand-labeled, numbered, and detailed with its cellar history, making Ruinart champagnes an indulgent sensory experience and a testament to centuries-old winemaking expertise.