1995 Louis Roederer Champagne Cristal Vinotheque Brut
#159047837
Add to Favorites
Reviews 96 points Wine Advocate "...is very intense on the nose and shows lovely maturity. Due to the vintage, which saw some rain in the summer, the Chardonnay part is a bit higher than usual (43% instead of 40%), with just 57% Pinot Noir (from Ay). Five percent of the wine was fermented in oak, and 15% underwent malolactic fermentation (only the Pinot Noir though). The palate is rich and vinous but also pure, straight and fresh, finishing with a tight structure, persistent minerality and a yeasty character. (SR)" 19 points Jancis Robinson "Launched in 2017. Eight years on lattes then riddled and put upside down (sur pointes) to stop oxygen ingress. Also stops autolysis – stops building of texture and the atmosphere becomes completely reductive so the wine seems to get younger. Sur pointes for six years then disgorged, 6 g/l dosage (cf original 9 g/l) made with the wine itself (cf other wine aged in cask). Then 7–8 years post-disgorgement ageing for 'caress' – to make bubbles much softer so texture much more caressing. Just 400 bottles (even fewer for the rose). Deep coppery straw. Very intense nose. Sort of rich smokiness on the nose. Combination of umami and lychee. Hint of cheese! Complex and broad but a small tweak to the recipe really. Some dried spice. (JR)"
Ridiculously low 2-day shipping. Add to cart to calculate cost.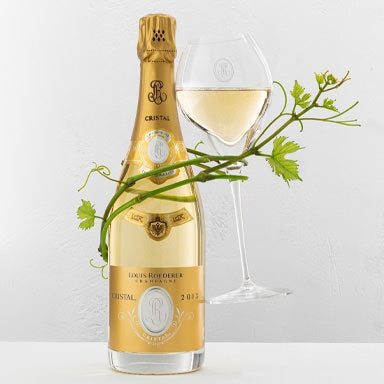 Cristal champagne is an iconic prestige cuvee, created by Champagne Louis Roederer in 1876 for Tsar Alexander II of Russia. Today, it is regarded as one of the finest champagnes in the world and is always a vintage champagne, produced only in the best vintages. Cristal is a blend of 60% Pinot Noir and 40% Chardonnay, with 32% vinified in oak casks, which lends it a unique complexity and depth of flavor. Cristal is also among the most age-worthy champagnes in the world, with the most recent release, the 2008 vintage, receiving an unprecedented 100-point score from multiple critics.
Cristal Rose is another variation of the prestige cuvee and is a blend of 55% Pinot Noir and 45% Chardonnay, aged for six years in the cellars. Cristal Vinotheque is aged "sur lattes" for around ten years and 10 years after dosage, while Cristal Rose Vinotheque is made of 70% Pinot Noir and 30% Chardonnay and aged for 20 years - 10 years on lees and 10 years after disgorgement.
Cristal is made from 45 plots in 7 Grand Crus across Verzenay, Verzy, and Aÿ, and its grapes are sourced from Louis Roederer's own vineyards, giving them complete control over how the grapes are grown and their quality. This results in a champagne that is a true reflection of the unique chalk soils in the region and is a study in terroir, elegance, purity, and power.
Cristal's signature gold cellophane is designed to protect the champagne from UV light penetration due to the clear glass, and it should be kept on the bottle until it is served. Cristal's iconic gold label and capsule are not just a nod to the nineteenth-century colour coding system but also signify the champagne's absolute pinnacle of quality.
In summary, Cristal is a champagne made for true lovers of fine wine, and its unique blend of Pinot Noir and Chardonnay, combined with the expertise and dedication of the winemakers at Champagne Louis Roederer, make it an exceptional and highly sought-after prestige cuvee. It is truly a champagne for special occasions and one that rewards patience with its exceptional aging potential.