1999 Domaine Rene Engel Echezeaux
#172399047
Add to Favorites
Our Notes
A true unicorn wine, from a Domaine that no longer exists ? revered winemaker Philippe Engel helmed this ascendant house until his unexpected passing in 2005. Philippe had a knack for making authentic, terroir-driven wines of great class and stature, and this Echezeaux, from a strong vintage, is true to form. Complete, expansive and supple, the sweet, dark-red-fruited nose is balanced by leather, spice and a hint of organic earth.
Reviews 92 points Wine Advocate "It has a dense, powerful bouquet in keeping with the vintage: slightly minty dark plum and mulberry fruit, a hint of soy. The palate is medium-bodied with grippy tannin, impressive body and density with earthy red and black fruit, just a touch of volatility lending warmth at the back of the throat. This is a gutsy Echezeaux, a little gaminess creeping in towards the finish with white pepper lingering on the aftertaste. (NM)" 90 points Burghound "A mildly spicy and earthy nose that mixes both notes of primary and secondary aromas leads to moderately concentrated medium-bodied flavors that culminate in a still somewhat austere but persistent finish. (AM)"
Ridiculously low 2-day shipping. Add to cart to calculate cost.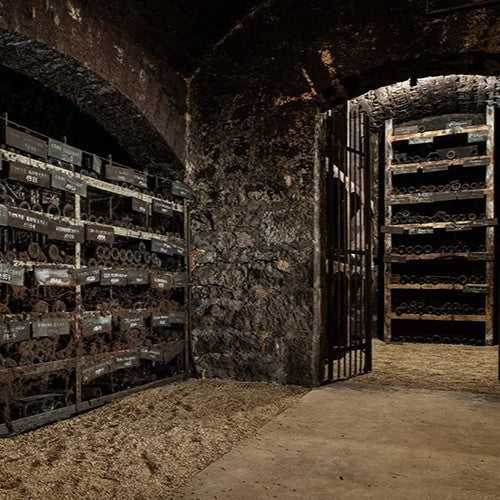 Domaine René Engel was a cornerstone of Vosne-Romanée, celebrated for its exquisite wines, especially under the stewardship of Philippe Engel, who assumed control of the estate in 1981 following the untimely death of his father, Pierre Engel. Mentored by his illustrious grandfather, René Engel, Philippe's own winemaking approach matured through the years, favoring minimal extraction and a restrained use of new oak to showcase the natural characteristics of the fruit. This technique resulted in wines that were intricate and elegant, with a surprising early approachability but also a notable aging potential.
The domaine was particularly celebrated for its grand crus - a majestic Clos Vougeot, a compelling Grands Echezeaux, and a third grand cru, Echezeaux. These wines were supplemented by a premier cru Vosne Romanée Les Brulées and a delightful village Vosne Romanée. Spanning 6 hectares, the vineyard holdings comprised five diverse wines from various plots.
The
Vosne-Romanée
village wine, representing 2.5 hectares of varied parcels, was a classic expression of the appellation. Les Brûlées, a premier cru originating from old vines planted in 1956, added a layer of spicy intricacy. Completing the lineup were the three grand crus, each with unique terroir expressions:
Echézeaux
(0.55 hectares),
Clos Vougeot
(1.37 hectares) - drawn from a superior plot near the château, and
Grands Echézeaux
(0.50 hectare). Year to year, the Clos de Vougeot and Grands Echézeaux vied for the honor of the domaine's finest wine.
Characterized by meticulous cleanliness and limited yields (rarely exceeding 35hl/ha), the winemaking approach included a non-interventionist fermentation process, employing a wooden press for precise control and an approximate three-week cuvaison period. The domaine incorporated new oak judiciously, around 25% for the village Vosne, with grand crus seeing up to 50% new oak.
After Philippe Engel's unexpected passing in 2005, François Pinault, renowned for his ownership of
Château Latour
, acquired the estate, which now operates as Domaine Eugénie. Today, wines from the "old" Domaine René Engel continue to captivate enthusiasts with their rarity and exceptional quality, a testament to the domain's illustrious history and unyielding commitment to excellence.