2000 Chateau Leoville Poyferre
#165918782
Add to Favorites
Reviews 97 points Wine Advocate "The plushest, most ostentatious and dramatic of all the Leovilles in 2000, this wine is already sumptuous, displaying some nuances in its huge nose of vanilla bean, black chocolate, jammy black cherries, cassis, and graphite in a flamboyant style. Opulent, savory, rich, and full-bodied, it is a head-turning, prodigious wine.... (RP)" 92 points Vinous "...a lovely bouquet of brambly red berry fruit, orange peel, sandalwood, ash and a touch of peppermint. Maybe there is just a tiny smidgen of brettanomyces. The palate is medium-bodied and approaching full maturity, with grainy tannins, meat juices, sage, thyme and light white peppery notes surfacing with aeration. (NM)"
Ridiculously low 2-day shipping. Add to cart to calculate cost.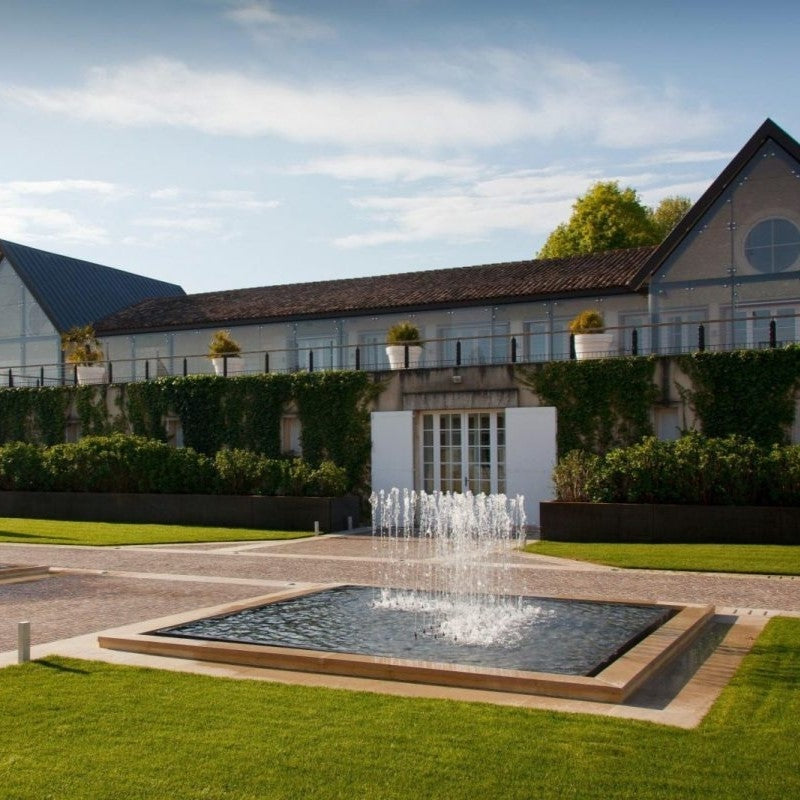 Chateau Leoville Poyferre, a Second Classified Growth in the prestigious appellation of Saint-Julien, has a rich history intertwined with the Bordeaux region. The Chateau was at the forefront of vineyard management innovations. They introduced practices considered unconventional at the time but are now widely used. For instance, they changed the grape varieties to produce smaller berries, resulting in more concentrated wines. They also used pinewood trellising and aged their wines in oak barrels cleaned with a sulfur solution.
The property underwent division in 1840, with Pierre Jean de Las Cases receiving a share that became Chateau Leoville Las Cases, and Jeanne passing her share to her daughter, the wife of Baron Jean-Marie Poyferre de Ceres, giving birth to Leoville Poyferre. Despite the separation, the buildings remained connected, and visitors can park at either Chateau to visit the other.
In 1920, the Cuvelier family acquired Leoville Poyferre, adding it to their portfolio of Bordeaux properties. Under the leadership of Didier Cuvelier, the estate saw significant improvements in winemaking. Replanting programs were initiated, and renowned winemaking experts, including Emile Peynaud and Michel Rolland, were brought on board.
Leoville Poyferre's vineyards span 80 hectares in Saint-Julien, planted primarily with Cabernet Sauvignon (68%), Merlot (24%), Cabernet Franc (6%), and Petit Verdot (2%). The vineyard blocks are dispersed throughout the appellation and comprise 43 separate parcels. The terroir is predominantly gravel, with some sand, clay, and limestone in the soil.
In terms of winemaking, Leoville Poyferre has continually modernized its facilities. In 2010, the vat rooms were completely renovated, allowing for precise vinification on a parcel-by-parcel basis. The wine is aged in approximately 75% new French oak barrels for 18 months before bottling.
The wines of Leoville Poyferre are known for their lush ripe fruit, concentration, and powerful yet plush style. Scents of cassis, spice, and black fruits, along with truffle and tobacco aromatics, are characteristic of these wines. Since 2000, Leoville Poyferre has consistently produced high-quality Bordeaux, with the 2009 vintage standing out as particularly exceptional.
Apart from its flagship wine, Leoville Poyferre also produces two additional wines: Moulin-Riche and Pavillon de Leoville Poyferre. The estate is managed by Sara Lecompte Cuvelier, the niece of Didier Cuvelier, and production amounts to around 20,000 cases per year.
With its rich history, exceptional vineyard holdings, and commitment to quality winemaking, Leoville Poyferre continues to be one of the most exciting and highly regarded producers in Saint-Julien and the entire Medoc region.