2008 Taittinger Champagne Comtes de Champagne Blanc de Blancs Brut
#150639472
Add to Favorites
Reviews 98 points Wine Advocate "Offering up a deep and complex bouquet of citrus oil, crisp orchard fruit, warm brioche, crushed chalk, blanched almonds and smoke, it's full-bodied and incisive, with excellent concentration, racy acids and a long, searingly chalky finish. (WK)" 19 points Jancis Robinson "Pale copper colour. Tiny bead. Lots of toasty autolysis on the nose and then masses of very crystalline acidity on the palate with a tiny bit of smoky reduction. Really energetic. Should be a great start to our JR.com Christmas dinner and, I hope, a good lead-in to La Grande Dame 1990. Dry finish and super-zesty. Lemon zest at that. Complete and gorgeous. Very long and clean. Beautiful balance. (JR)" 97 points John Gilman "The bouquet jumps from the glass in a vibrant blend of apple, pear, lemon zest, warm bread, chalky minerality, white lilies and just a whisper of buttery oak buried down deep. On the palate the wine is pure, full-bodied and rock solid at the core, with a fine structure and grip, refined mousse, beautiful backend mineral drive and a long, complex and still quite youthful finish. (JG)"
Ridiculously low 2-day shipping. Add to cart to calculate cost.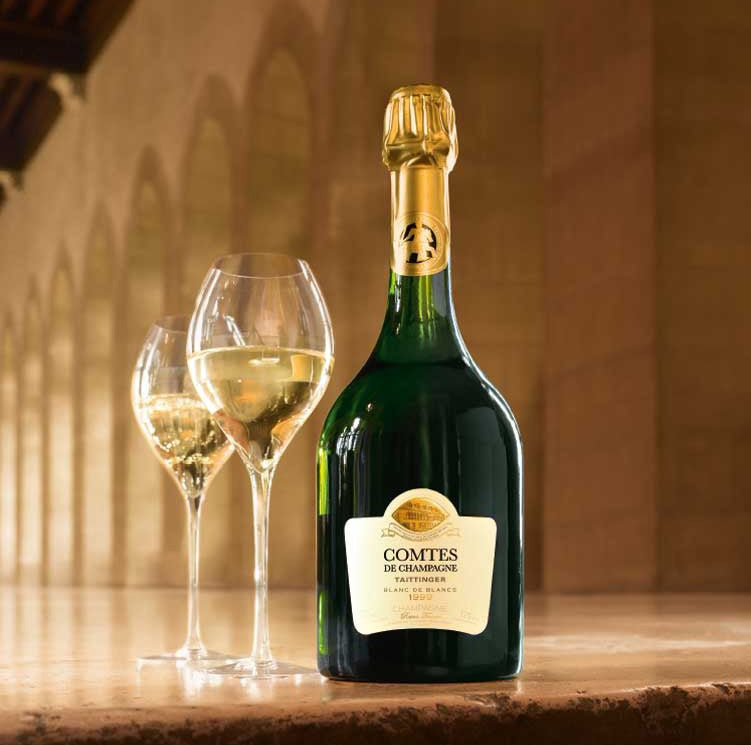 Taittinger has, for centuries, crafted wines with unparalleled excellence. Their 288-hectare expanse boasts primarily Chardonnay and Pinot Noir vines, some of which have flourished since the 18th century. As a testament to Taittinger's mastery, the Comtes de Champagne stands distinct. Produced only in exceptional vintage years and entirely from Chardonnay, this wine sources from the crème de la crème of the Côte des Blancs vineyards, specifically the five grand crus: Cramant, Avize, Chouilly, Oger, and Mesnil-sur-Oger. Taittinger ensures a purity of juice by employing only the first press.

What sets Comtes de Champagne apart further is its delicate oak influence. About 5% of the blend enjoys a brief sojourn in oak barrels, a mere four months, introducing nuanced complexities. However, the real magic unfolds in Taittinger's iconic 'Crayeres' in Reims. These ancient chalk caves, UNESCO World Heritage sites, cradle the Comtes de Champagne for up to 10 years on lees. Such prolonged aging in the 13th-century chalk cellars beneath the Saint-Nicaise Abbey lends the wine its signature depth and finesse.

The Taittinger lineage, under the guidance of Vitalie Taittinger, remains unwavering in their commitment to quality. The result is a wine that resonates with the region's history, particularly the legacy of Thibaud IV, King of Navarre. Every bottle of Comtes de Champagne is not just a sip of wine, but a taste of Champagne's storied past and Taittinger's ceaseless dedication to perfection.