2009 Domaine G. Roumier / Christophe Roumier Chambolle-Musigny
#171611056
Add to Favorites
Reviews 90 points Vinous "Medium red. Ripe raspberry and chocolate on the nose and palate. Plush, pliant and sweet; wonderfully full, seamless and creamy for village wine. Finishes with smooth, chocolatey tannins and excellent length. (ST)"
Ridiculously low 2-day shipping. Add to cart to calculate cost.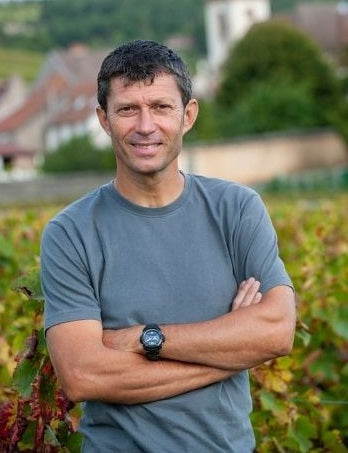 The eminent Christophe Roumier manages the prestigious Domaine George Roumier, a Burgundy powerhouse known for its premier and grand crus that garner the admiration of sommeliers and collectors alike. Established in 1924, the Domaine's superior fruit springs from Chambolle Musigny's stellar terroirs – Le Musigny, Les Amoureuses, and Bonnes Mares – and three distinguished parcels cultivated en métayage: Echezeaux, Ruchottes, and Charmes Chambertin. Despite Christophe's insistence on pruning rigorously to ensure low yields, the resultant wines are opulent, concentrated, and marked by a unique balance of power and restraint.

With an unswerving dedication to quality, Christophe personally sorts the harvest, mostly de-stemming the grapes based on vintage conditions and allowing them to macerate in oak cuves at low temperatures. The must, punched down twice daily, ferments on native yeasts in both stainless steel and concrete. The aging of wines is handled judiciously according to their crus, utilizing a modest 15% new oak for the village wines and reaching a maximum of 50% for the grandiose Bonnes Mares grand cru. These expert techniques result in wines that are enchanting, seductive, and notably age-worthy.

Currently, Domaine George Roumier spreads across 11.52 hectares in Chambolle-Musigny, Morey-Saint-Denis, and Corton-Charlemagne. Here, Christophe leverages his intelligence and winemaking prowess to produce wines that are not just consistently delicious but carry profound elegance - a testament to the ancient craft of winemaking.

Maintaining a minimal dependence on new wood, Christophe pursues and accomplishes remarkable precision in his wines. Thus, the limited production of globally renowned crus such as Bonnes-Mares, Chambolle-Musigny, Charlemagne Grand Cru, and Ruchottes-Chambertin, render these offerings as coveted collectibles. Domaine George Roumier, therefore, continues to stand as an undeniable icon of Côte de Nuits, showcasing an unrivaled blend of heritage, expertise, and an unwavering commitment to quality.