2010 Emmanuel Houillon (Maison Pierre Overnoy) Poulsard Arbois Pupillin
#163439692
Add to Favorites
Ridiculously low 2-day shipping. Add to cart to calculate cost.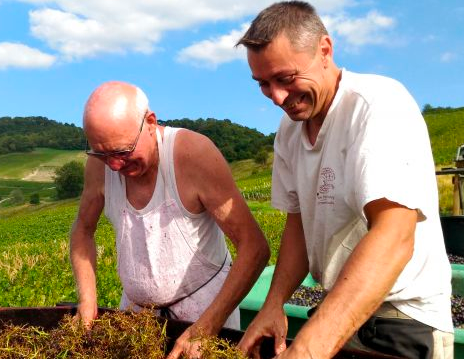 Emmanuel Houillon is the innovative winemaker behind Maison Pierre Overnoy, perpetuating Pierre Overnoy's legacy with an impressive 2.5 hectares of vineyards in Pupillin, near Arbois. Notably, the wines from this estate are characterized by their uniqueness and complexity, a testament to the rich Jura terroir.

Emmanuel's meticulous involvement in the winemaking process sets him apart from many contemporaries. With careful selection of the finest grapes from his vineyards, he ferments and ages his wines in oak barrels to infuse the wines with deep and rich flavors. His use of controlled oxidation allows the wines to exhibit rich, nutty profiles, creating an unparalleled tasting experience.

Furthermore, the Maison Pierre Overnoy is famed for its uncompromising quality standards. Emmanuel, along with Pierre, releases wines only when they are deemed ready for consumption, ensuring top quality in each bottle. This dedication to excellence has propelled the Maison Pierre Overnoy to an esteemed position in the Jura region.

The vineyard holdings comprise 2 hectares each of Ploussard, Chardonnay, and Savagnin and 0.3 hectares of Trousseau. The singular approach to wine release, with multiple vintages often launched simultaneously, adds an element of surprise to their offerings. Apart from Vin Jaune and Vin de Liqueur, all the wines carry identical labels, with the varietals distinguishable only by the wax color sealing each bottle.

The estate's commitment to natural winemaking, drawing on the traditions of the Jura region and the mentorship of figures like Jules Chauvet, is another unique aspect. Houillon's adherence to this approach has made the wines of Maison Pierre Overnoy highly sought after and valued for their originality. Despite the escalating demand, he has remained steadfast in his refusal to expand the estate or buy additional grapes, ensuring the quality and authenticity of each bottle.

Ultimately, Maison Pierre Overnoy wines are recognized for their remarkable qualities. Despite their distinctive flavors and natural production process, they provide an enriching and interesting drinking experience for the discerning wine enthusiast.