2013 Aristos (Louis-Michel Liger-Belair) Cabernet Sauvignon Duque
#154434611
Add to Favorites
Reviews 94 points Wine Advocate "The textbook 2013 Duque D'A is mainly Cabernet Sauvignon, but it also has 9% Merlot. It's very classical, with a traditional vinification and elevage in French oak barrels, with a more varietal character than the 2014. It has fine-grained tannins and a soft mouthfeel. It's quite polished. (LG)"
Ridiculously low 2-day shipping. Add to cart to calculate cost.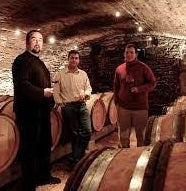 Aristos is the outcome of an intense discussion about wine, terroir, and life that took place between Pedro Parra, Francois Massoc, and
Louis-Michel Liger-Belair
in the Chateau of Vosne Romanee, where the dream of a genuine Burgundy-Chilean project was born. Although the initial plan was to work with Pinot Noir, the unsatisfactory quality of the Chilean massale material for the grape and their limited terroir knowledge led them to experiment with Merlot, Syrah, Cabernet Sauvignon, Chardonnay, and other varieties until they found a terroir suitable for creating balanced, world-class wines.
Their commitment to excellence led to the creation of only two wines,
Baron D'A
and
Duquesa
, in their first commercial vintage of 2007. With only 12 barrels produced, Baron D'A was a blend of Cabernet Sauvignon, Merlot, and Syrah. Duquesa was all Chardonnay, grown in the highest vineyard planted in the Andes Mountain Range, providing the wine with a remarkable natural acidity. The following year, they increased their production to 20 barrels, with 10 for the Duquesa and 10 for a new wine,
Duque
- a 100% Cabernet Sauvignon made from the highest Cabernet vineyard in Chile, consisting of four different micro terroirs with the same soil but varying levels of clay and gravel size.
Aristos, meaning noble or excellent in Ancient Greek, is a collaboration of three people passionate about creating the finest wines possible based on the concept that a "Grand Vin" must be drinkable and not just tastable. Their main focus is terroir, searching for the best land possible for each grape variety, such as the Cachapoal region in Rapel in the Andean foothills for Chardonnay and Cabernet Sauvignon. They named their wines La Duquesa, Barone, and El Duque to reflect the nobility of the project and the resulting wines.
In just a few years, Aristos has become one of the most talked-about wineries in Chile, with plans to plant 2.5 hectares of Pinot Noir in BioBio, making their wines even more sought after from South America. With their commitment to finding the best terroirs, their expertise in wine, and their passion for producing noble and drinkable wines, Aristos is undoubtedly a winery worth collecting and experiencing.