2013 Marie-Noelle Ledru Champagne Grand Cru Cuvee du Goulte Blanc de Noirs Brut
#103790078
Add to Favorites
Ridiculously low 2-day shipping. Add to cart to calculate cost.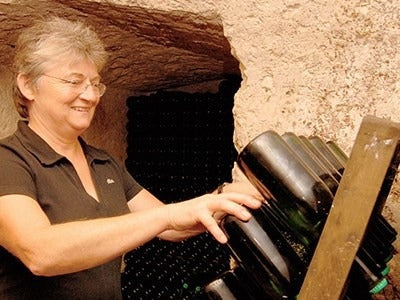 Marie-Noelle Ledru, a legendary Champagne producer, is renowned for her meticulous and elegant approach to winemaking. A true viticulturist, she worked alone, traditionally, and on a small scale, emphasizing the purest articulation of the exceptional terroir of Ambonnay - a Grand Cru village located on the southern slope of Montagne de Reims.
Hailing from four generations of vignerons, Ledru's family bravely chose to become grower-producers in 1946, despite the overwhelming dominance of the Grandes Marques in Champagne. When Marie-Noelle took over in 1984, she continued the family tradition, crafting Champagnes for thirty-two vintages that captured Ambonnay's finesse, aromatic complexity, and supple texture.
Ledru's vineyard holdings were tended as naturally as possible, eschewing herbicides and pesticides in favor of a more organic approach. This dedication to simplicity and natural methods extended to her small, cold cellar. Primary fermentation occurred in stainless steel and enamel tanks to maintain purity, with malolactic fermentation always completed. No filtration or cold stabilization was used, and vintage cuvées matured for five years on the lees. Furthermore, each bottle was riddled and disgorged by hand, without sulfur addition and with minimal or zero dosage.
Since her retirement in 2018, Marie-Noelle Ledru's wines have become increasingly difficult to find. Grower Champagne aficionados prize Ledru's cuvées for their clear expression of the power and finesse of Pinot Noir from Ambonnay, one of the world's greatest terroirs. The limited production of these wines further adds to their rarity and allure.
For those fortunate enough to acquire a bottle, Marie-Noelle Ledru's Champagnes are a testament to her unyielding commitment to elegance, precision, and terroir. These highly sought-after and extraordinary Champagnes provide a unique opportunity to experience the essence of their region, village, and vineyard, capturing the very soul of Ambonnay's remarkable terroir.