2014 Dhondt-Grellet Champagne Premier Cru Les Terres Fines Blanc de Blancs
#173274925
Add to Favorites
Ridiculously low 2-day shipping. Add to cart to calculate cost.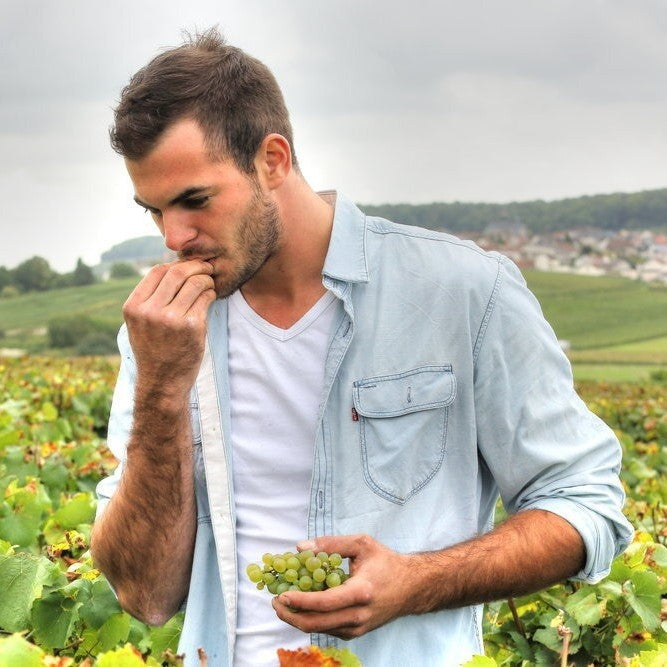 Dhondt-Grellet, situated in the small town of Flavigny in the Champagne region, is a testament to the boundless potential of dedicated farming and terroir-focused winemaking. In 1986, founders Eric Dhondt and Edith Grellet ceased selling grapes to negociants and embarked on creating their own wine label, driven by an unwavering commitment to meticulous vineyard cultivation. This approach, deeply rooted in their passion for the land, yields exceptionally sincere Champagnes from premium vineyards spanning the Côte des Blancs.

Now under the stewardship of their son Adrien, the domain has experienced a significant elevation in the quality and diversity of its offerings. Expanding the scope of the Dhondt-Grellet portfolio, Adrien meticulously crafts distinct expressions of Chardonnay by isolating the family's holdings in the villages of Cramant and Cuis. His innovative approach has garnered international recognition and anticipation for the future of this dynamic young domaine.

The Dhondt-Grellet winemaking philosophy emphasizes an unending cycle of improvement and enrichment. Since their inaugural estate bottling in 1986, they have consistently maintained a perpetual reserve. This method, in combination with organic and biodynamic practices, underpins Adrien's commitment to peasant viticulture—an ideology that champions rich, living soil and a harmonious balance between microbial life and the vine. It's worth noting that while they adhere to organic and biodynamic principles, they do not seek official certification. Adrien's vineyard stewardship also involves rigorous manual pruning, de-budding, and using his horse, Thor, for plowing since spring 2021.

Adrien employs minimal intervention in the cellar, favoring native yeasts and gentle sulfur dioxide addition. He conducts most of the fermentation in oak barrels—a practice that gives Dhondt-Grellet wines a unique Burgundian-inspired texture and vinosity.

Adrien's innovative work extends to the exploration of single-site/single-village wines. This focus on individual terroirs culminates in producing pure, complex Champagnes. His vineyard holdings in the Cramant and Cuis villages consist of several distinct parcels, each contributing unique characteristics to the final blends. Dhondt's flagship cuvee, Dans un Premier Temps, contains fruit from all of his vineyard holdings, with roughly 50% Chardonnay and the rest Pinot Noir and Pinot Meunier, from Avenay and Cuis, respectively. 

Adrien Dhondt's unyielding dedication to farming, insistence on low yields, and unorthodox peasant farming approach are bringing forth a paradigm shift within a tradition-bound region, cementing Dhondt-Grellet as a progressive producer in the realm of Champagne. With the domaine's success, it's clear that Adrien is truly an exciting winemaker to watch.