2015 Renaud Bruyere & Adeline Houillon Arbois Pupillin Ploussard
#147669590
Add to Favorites
Ridiculously low 2-day shipping. Add to cart to calculate cost.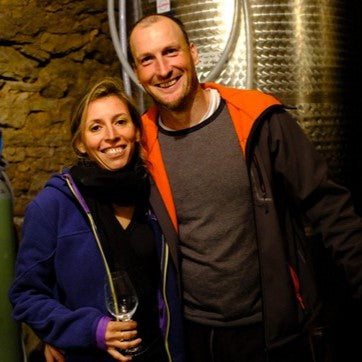 Hailing from the quaint town of Arbois, Jura, Renaud Bruyère and Adeline Houillon are two youthful vintners revered for their elegant expressions of local Ploussard and ouillé white blend of Chardonnay and Savagnin. They steward a modest 4.5 hectares of low-yielding, biodynamically farmed vines; their output is limited but craved. Their winemaking philosophy takes inspiration from their time at
Pierre Overnoy
and
Stéphane Tissot
, and it echoes in their non-interventionist approach.
Their
Ploussard
hails from vineyards near Pupillin, the world's epicenter for this variety. The wine goes through semi-carbonic maceration, capturing the grape's purest expression while avoiding filtration or any additives—the fruit, nurtured in Triassic clay, results in a red wine of light elegance and finesse.
Their
Blanc La Croix Rouge
, a harmonious Chardonnay, undergoes a lengthy fermentation, with periodic topping up to prevent extensive oxygen contact, thus preserving its freshness. Grown in calcareous clay and limestone, this wine, like its red counterpart, is treated as a "living" entity with no filtering, fining, or sulfites added. The single varietal
Savagnin
 is aged in old barrels for nearly three years. This wine encapsulates Jura's finest characteristics.
Additionally, they produce a special cuvée from
Les Tourillons
vineyard, composed of Chardonnay (80%), Savagnin (20%), and a handful of Trousseau grapes. This picturesque plot's calcareous fragments imbue salinity and minerality in the wines, amplifying the energy and tension.
Their commitment to terroir expression, tradition, and natural winemaking has earned Bruyère & Houillon an ardent following since its inception in 2011. These wines are not only a reflection of Jura's unique terroirs but also a testament to the passion and skill of these dedicated winemakers.