2016 Arnaud Ente Meursault Clos des Ambres
#170303497
Add to Favorites
Reviews 92 points John Gilman "The 2016 Clos des Ambres shows all of the refinement and elegance that is inherent in this vintage range from Monsieur Ente. The nose jumps from the glass in a very floral and esthery mix of pear, apple, hazelnuts, chalky soil tones, fruit blossoms and vanillin oak. On the palate the wine is pure, full-bodied and very mineral in personality, with a lovely core of fruit, fine focus and grip, bright acids and a very long, complex and electric finish. This is not a powerful wine by any means, but a wine of complexity, precision and purity that is lithe and intense, rather than muscular. A gorgeous wine. (JG)"
Ridiculously low 2-day shipping. Add to cart to calculate cost.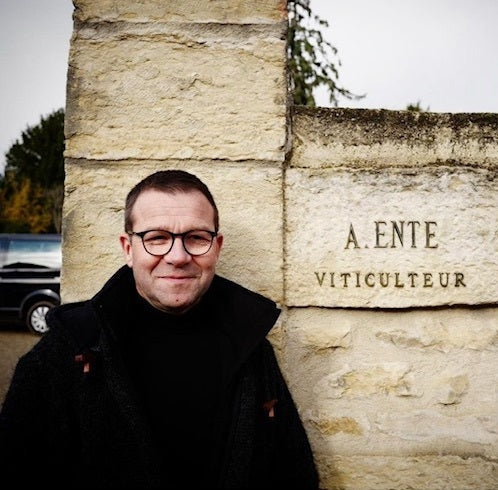 Domaine Arnaud Ente, established in 1992, has emerged as one of Meursault's brightest stars, revered for its harmonious and terroir-driven wines. Arnaud Ente's experience working for Coche-Dury has honed his taste for mineral precision in his white Burgundies. Alongside his wife, Marie-Odile, the couple farms four hectares of sustainably managed vineyards, with the majority of their holdings in the Clos des Ambres, within the En Ormeau terroir. Their most notable vineyards comprise three parcels of premier crus in Meursault, Puligny-Montrachet, and Volnay.

Despite being a highly lauded producer among his peers, Arnaud Ente's minuscule production of just 1,250 cases per year has limited the wines' widespread recognition. Their tiny, fragmented holdings and low yields contribute to the rarity and allure of their wines, which are praised for their density, verve, and pristine flavors.

Arnaud Ente's winemaking process is characterized by its meticulousness and attention to detail. The grapes are often crushed before undergoing gentle pressing, allowing the juice to settle for 24 hours before being racked into barrels and larger demi-muids. Only 20% of new oak is used, and the wines age for 11 months before being transferred to tanks for an additional six months. Unfined and unfiltered bottling showcases the terroir and fruit character, emphasizing the wines' abundance and restraint.

Their Bourgogne Blanc, derived from two sites in Meursault and Puligny with vines dating back to the early 1970s, offers complex, elegant, and pure fruit. Village-level Meursault, primarily sourced from an old-vine vineyard that also contributes to the Clos des Ambres bottling, demonstrates incredible depth and pronounced minerality. Les Petits Charrons, described by Arnaud as his least-typical Meursault, presents a taut and floral contrast to the nearby 1er Cru Gouttes d'Or, which is concentrated, textural, precise, and majestic.

Arnaud Ente's early vintages were riper and fuller, but he has transitioned to a leaner, more focused, and reductive style. Utilizing foudres, glass (wineglobe), and steel, Arnaud emphasizes the purity of fruit. Long élevages, and the absence of filtering or fining, result in wines of immense complexity, dazzling definition, and sublime textures. Domaine Arnaud Ente's wines epitomize poise and liveliness, showcasing the full promise of the generous Burgundian terroir.