2016 BiNaume (Clarie Naudin/Jean-Yves Bizot) Le Gamay de l'Allie
#171205404
Add to Favorites
Ridiculously low 2-day shipping. Add to cart to calculate cost.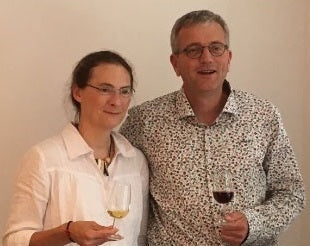 Binaume is an inspired collaboration between renowned winemakers and spouses Claire Naudin and Jean-Yves Bizot. The partnership arose from the adversity of the 2016 frost in Burgundy which heavily impacted Naudin's harvest. Determined to continue their wine production, they sought alternative vineyards, eventually sourcing Pinot Noir and Gamay grapes from the sandy soils of Saint-Pourçain in Allier department, a divergence from the customary limestone-clay mix of the Côte d'Or.

In their two cuvées, La Plante d'à Côté (Pinot Noir) and Le Gamay de l'Allier (Gamay), you can sense Naudin's long-held dedication to quality. Over 16 years, she has diligently implemented lower yields, improved trellising, and enhanced the health and maturity of her grapes. Naudin advocates for sustainable viticulture, emphasizing a 'natural as possible' approach. She utilizes natural yeasts and a gravity-fed cellar, eliminating unnecessary soil manipulation and grape damage prior to fermentation. No filtration or fining occurs; she opts to rack the wine more frequently, creating fewer traces of additives and a more natural expression.

The grapes, hand-harvested by Claire, make a 2-hour journey in a refrigerated truck back to their domaine. They undergo whole-cluster vinification in cement tanks, without added sulfur. The Gamay, in particular, is pressed early to preserve the fruit and matured in cement vessels. The wines are bottled unfined and unfiltered with a trace amount of sulfur dioxide, ensuring they retain their vibrant and unique flavor profiles.

Naudin's and Bizot's joint venture challenges the boundaries of traditional Burgundian winemaking. Binaume's wines, uplifting and soft, brimming with notes of rose, raspberry, and pink peppercorn, embody this. Together, this power couple has created a distinct and joyous wine experience that celebrates their vision, resilience and the value of sustainable viticulture.