2016 Emilien Feneuil Champagne Totum
#146842809
Add to Favorites
Reviews 93 points John Gilman "The bouquet wafts from the glass in a mix of white peach, apple, complex soil tones, patissiere, discreet smokiness, gentle nuttiness and a lovely array of pinot meunier floral tones in the upper register. On the palate the wine is vibrant, full-bodied and starting to blossom nicely, as the very snappy acids of April are starting to relax properly with a bit of bottle age. The wine is deep at the core, shows excellent soil signature, pinpoint bubbles and a long, focused and complex finish of excellent quality. (JG)"
Ridiculously low 2-day shipping. Add to cart to calculate cost.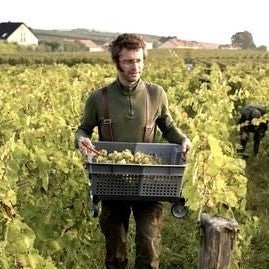 In 2006, Emilien Feneuil embraced the opportunity to breathe fresh life into his family's property nestled in the serene vineyards of Sermiers in the Montagne de Reims. Emilien has since metamorphosed the Feneuil estate, utilizing his learnings from wine school in Avize and his first-hand experience in organic farming, which helped formulate his approach to unique approach to winemaking.
By integrating principles of biodynamics, geobiology, and agroforestry, Emilien invigorated his 2.35-ha vineyard comprising 17 plots. The result was an incredible transformation—dark, fragrant earth, robust vines, and increasingly complex grapes—a testament to the benefits of sustainable farming.
Emilien entered the wine-making arena in 2015, employing the facilities of friend and fellow vintner,
Aurelien Lurquin
, to press his yields from
Les Basses Croix & Les Gillis
, and
Les Puits
. The pressing process, for Emilien, is a balancing act—ensuring the grape must flows naturally and maintaining essential oxygen contact for wine stability. In 2020, he acquired his own press, allowing him complete manual control over the pressing cycle—a leap forward in his wine-making journey. He keeps a smaller manual wine press to connect with the rhythms and sounds of traditional wine-making methods.
Emilien's portfolio includes three Coteaux Champenois and four Champagnes—all vinified by plot apart from
Totum
, a unique blend of all the varieties and plots. Each bottle embodies the organic and biodynamic techniques the vineyard champions, requiring only minimal sulfur dioxide addition for wine expression. His unique sensitivity to nature's alchemy and an inherent understanding of rhythm and duration translates into his wines' unique taste profile—rewards for those who savor unhurried sips.
He grows primarily classic grapes—Pinot Meunier, Chardonnay, and Pinot Noir—but also nurtures a tiny parcel of Petit Meslier, a nearly forgotten local grape variety in Champagne. With an annual production of around 4000 bottles, Emilien's wines are a treasure for the discerning oenophile, exuding the essence of the diverse Sermiers terroir. His minimal intervention philosophy and patient aging render wines with emense character and depth.