2016 Fattoria Poggio di Sotto Brunello di Montalcino
#149013227
Add to Favorites
Reviews 97 points Wine Advocate "The wine is redolent of dark plum and wild cherry, and those bright primary fruit tones descend into softer layers of rose hip and lavender sachet. The wine's acidity hits the palate with balanced determination and instantly livens up the senses. This classic vintage will be remembered for its length and pedigree. (ML)" 96 points Vinous "At one moment, the 2016 shows crushed cherries with autumnal spice; the next, it's exotic florals and candied orange peels, and at another time flowery undergrowth, white smoke and wild berries. It's unbelievably soft and pure, lifting the wine through saline-minerals, as sweet notes of cherry and raspberry begin to slowly saturate, yet what they leave behind is youthfully grippy tannins. With how structured the 2016 is today, it's still enjoyable due to nervous acids and notes of sour citrus, which keep the expression fresh. (EG)"
Ridiculously low 2-day shipping. Add to cart to calculate cost.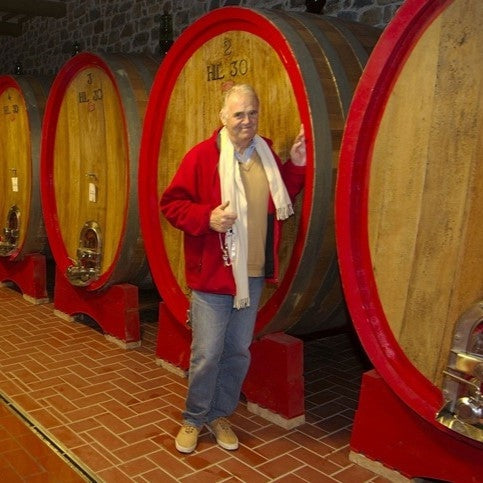 Fattoria Poggio di Sotto, situated in the warm southwest of Montalcino, embodies the unique, expressive style founded by logistics entrepreneur Piero Palmucci and continued by the current owner, Claudio Tipa, a native Sicilian passionate about viticulture.

This distinguished estate comprises 32 hectares, with ten hectares meticulously devoted to cultivating Brunello. Its first Brunello di Montalcino was birthed from the 1991 harvest, and the estate quickly gained recognition for its elegant and complex wines. Boasting an organic farming ethos, the winery's low yields of three to three and a half tons per hectare result from the steep southern-exposed vineyards in Castelnuovo dell'Abate at the foot of Monte Amiata. These vineyards sit between 200 and 400 meters in altitude, characterized by gravel and clay soils in the lower sections and sandy loam in the higher regions.

The estate's fermentation process occurs in both wooden and stainless steel tanks, after which wines mature in Slavonian oak, aging two years for the Rosso, four years for the Brunello, and five years for the Brunello Riserva. The vineyard's prime location overlooking the Orcia River Valley, combined with breezes from the Monte Amiata, contributes to a cooler microclimate conducive to creating a notably Burgundian-style Brunello.

Poggio di Sotto's commitment to producing high-quality Sangiovese is evident in their relationship with the University of Milan, optimizing their vineyards and selecting the finest Sangiovese clones. The fruits of their labor, be it the Brunello di Montalcino or Rosso di Montalcino, mature in distinct oval Slavonian oak barrels and are bottled unfiltered, making for a potent yet delicately balanced wine.

The old Sangiovese vineyards (over 50 years old) hold 120 unique biotypes of Sangiovese, uncovered in partnership with the University of Florence, and are the source of the unique brightness and complexity found in Poggio di Sotto wines. This biodiversity has elevated the estate to cult status, and the Tipa Bertarelli Family's commitment to maintaining Tuscan tradition while incorporating innovation continues to define the winery's distinctive style. Poggio di Sotto's high-density planting and careful cultivation of the multiple clones of the Sangiovese Grosso varietal in these optimal southern slopes, combined with long maturation in their bespoke oval casks, make for the uniquely elegant, bright, and moderately bodied wines that the estate is famed for.