2016 Luciano Sandrone Barolo Aleste
#171304508
Add to Favorites
Our Notes
(Formerly Cannubi Boschis) Sandrone's 2016 Barolo Aleste is a total stunner. Succulent dark cherry, plum, mocha, lavender and spice are all beautifully framed by ripe, silky tannins. Creamy, resonant and super-expressive, the 2016 Aleste hits all the right Nebbiolo notes.
Reviews 98 points Wine Advocate "...this vintage delivers impeccable intensity that transcends the various fruit, spice, earthy and ethereal components of the bouquet. That equal intensity spread across all parts of the wine is what creates those beautiful transitions. The wine is layered and rich in terms of mouthfeel with a long, fruit and spice-driven finish. The tannins are tucked in at the back, surrounded amply by the wine's textural richness and fruit weight. (ML)" 98 points Vinous "The 2016 Barolo Aleste is ample, creamy and expansive in feel. But more than that, the 2016 stands out for its freshness, persistence and brilliance. In so many vintages, the Aleste (formerly known as Cannubi Boschis) has been rich and powerful in feel, but in 2016, the wine is all about finesse. The red-fruited, floral purity of Nebbiolo comes through beautifully here; I especially admire the wine's translucence. Wow. (AG)"
Ridiculously low 2-day shipping. Add to cart to calculate cost.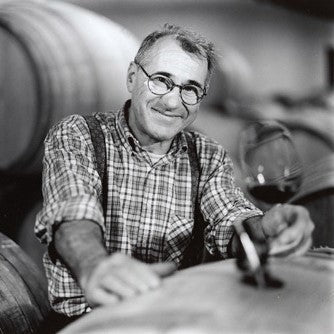 Luciano Sandrone, a celebrated producer in Barolo, skilfully blends modern and traditional styles in his wines, creating a unique profile that merges immediate elegance with lasting power and structure. His wine journey began with his first vineyard purchase on the Cannubi Hill in 1977, leading to his inaugural vintage in 1978. Over time, he honed a unique philosophy to create harmonious, distinctive, and age-worthy wines.

At the heart of Sandrone's winemaking approach lies the marriage of innovation and tradition. He has constructed a state-of-the-art winery at the foot of the Cannubi hillside, designed to respect Barolo's rich heritage while embracing advanced viticulture techniques. Sandrone dedicated his career to crafting superior Nebbiolo expressions from his vineyards in Barolo and the Roero, focusing on balance, concentration, and longevity.

Drawing inspiration from both the past and present, he employs a delicate touch in his winemaking. He favors medium-duration macerations, shorter than many age-old practices, and is judicious in his use of new oak during the aging phase. This harmonious blend of techniques produces wines that are evocative and defy easy categorization, embodying a timeless charm. Throughout the generations, from his brother Luca to his daughter Barbara, and now to his cherished grandchildren, the family ardently upholds this unique and evocative signature style.
The Barolo Le Vigne, a meticulous blend of Nebbiolo from four vineyards across the Barolo region, and Aleste, formerly known as Barolo Cannubi Boschis, are notable examples of Sandrone's commitment to expressing unique terroir characteristics. The Nebbiolo d'Alba Valmaggiore is all handmade and created from Sandrone's Roero holdings, showcasing the potential of Nebbiolo outside of Barolo and further underlining Sandrone's relentless pursuit of this grape variety's potential. Aleste is the natural continuity of Luciano's first wine, the Barolo Cannubi Boschis. Luciano pays tribute to the next generation by combining the names of his grandchildren, Alessia and Stefano.

Through innovative viticulture and unique winemaking practices, Luciano Sandrone has crafted wines that stand among the best in Barolo, encapsulating the symbiosis of power and elegance. His legacy, carried forward by his family, continues to shape the winemaking narrative in the region.