2016 Margherita Otto Barolo
#151711651
Add to Favorites
Reviews 94 points Wine Advocate "...a firm and tightly knit expression with a solid center of gravity. The wine offers a dark and robust textural fabric with a pretty interlay of dark fruit, dried cherry, plum, licorice, crushed rock and balsam herb. You get the full package of Nebbiolo aromas, presented with elegance grace and careful balance. (ML)" Jancis Robinson "Lustrous mid ruby. Savoury, complex minerally cherry fruit with hints of malt, liquorice and chalky notes. Great focus of sappy, juicy cherry fruit on the palate and lined with coating tannins. Great balance and length and just at the beginning of its evolution. (WS)"
Ridiculously low 2-day shipping. Add to cart to calculate cost.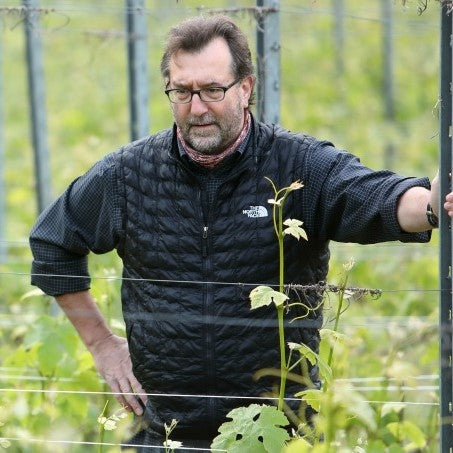 Situated in Monforte d'Alba, Margherita Otto, a relatively new winery, is the dream come true of Alan Manley, an American gastronome who relocated to Piemonte with an aspiration to produce his own Barolo. After gaining experience from renowned wineries like
Bartolo Mascarello
,
Luciano Sandrone
, and
Cavallotto
, Manley procured vineyard parcels in Monforte d'Alba, Castiglione Falletto, and Serralunga d'Alba.
At Monforte d'Alba, his parcel borders the Ginestra cru at a high altitude (470-500m), while his plot in Castiglione Falletto is situated in the steep Pernanno cru. The Serralunga d'Alba site touches the Vigna Rionda cru. These well-positioned plots enable the production of high-quality wines.
Manley's winemaking follows the time-honored method of assemblaggio, co-fermenting different parcels to make a singular wine. Wines are fermented traditionally using the capello sommerso method for around 45 days, followed by aging in Botti (large oak barrels) for at least three years. These methods contribute to remarkably structured wines, focusing on elegance and precision. Their mineral-driven nature, backed by well-balanced acidity and tannic structure, promises a potential aging period of 15-20 years or more.
The vineyards vary in size, from Pernanno MGA's (Menzioni Geografiche Aggiuntive) 0.25ha to Vignane MGA's extensive 1.6ha, the latter having multiple grape varieties. All plots are tended manually, with a tractor utilized for mowing and soil treatments in Monforte, Serralunga, Vignane, and Coste di Rose. Vines are pruned using the Guyot system, and each carries 6-9 bunches of grapes. In terms of treatments, minimal copper and sulfur dosages are employed alongside composted algae fertilizer to maintain plant and fruit health.
At Cantina Margherita Otto, the Nebbiolo grape reigns supreme. The cellar boasts a variety of Botti, ranging from 10 to 50 hectoliters, all crafted by the Mittelberger cooperage in Bolzano, Italy. Made from Alsace-sourced French oak, these neutral-flavored barrels play a crucial role in the maturation of Margherita Otto's remarkable Barolo.