2017 Domaine des Cotes Rousses Coteau de la Mort
#107168521
Add to Favorites
Ridiculously low 2-day shipping. Add to cart to calculate cost.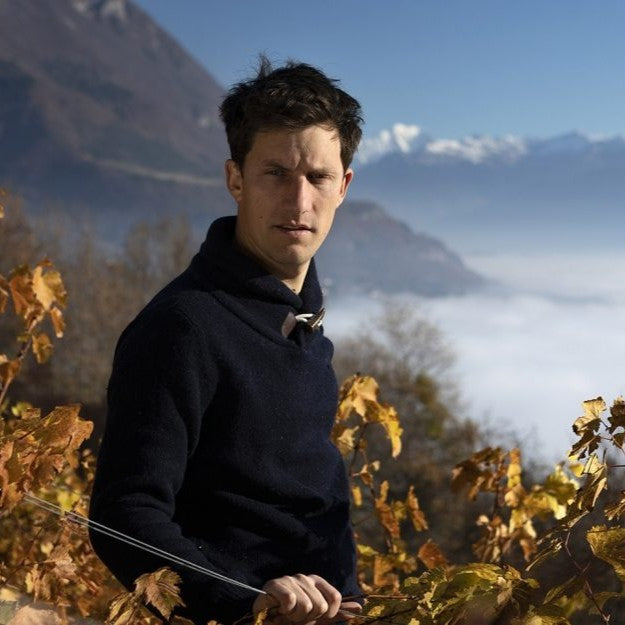 Founded by Nicolas Ferrand in 2013, Domaine des Côtes Rousses is a testament to diligent, intimate vineyard work and minimal-intervention winemaking. Named after the Champ Roux site and its russet clay soils, the Domaine began with 1.5 hectares in Saint-Jean-de-la-Porte, Savoie, and has since expanded to 5.5 hectares. The vineyards, ranging in altitude from 350 to 580 meters, are predominantly south-facing and densely planted with 10,000 plants per hectare, boasting 60-year-old vines and a medley of local and international varieties like Mondeuse, Altesse, Jacquère, Chardonnay, Pinot Noir, and Cabernet Sauvignon.

With a firm belief in respecting the land, Ferrand employs organic and biodynamic farming, using plant infusions for disease prevention and allowing sheep to naturally weed and fertilize the vineyards in winter. All work is manually done, aided by horse and caterpillar tractor on steep slopes that can reach 45%. Pruning is also meticulously performed in three methods - Guyot, En Gobelet, or En Cordon de Royat.

The winemaking philosophy aligns with Ferrand's minimal intervention approach. Red grapes are fermented whole bunch in concrete vats with natural yeasts and no added sulfur, with no pumping-over or punching down. The whites are pressed and fermented with natural yeasts, then aged on lees in a mix of vessels. Racking and bottling follow the biodynamic calendar, with wines bottled unfined and unfiltered, with minimal sulfur.
The wines from Domaine des Côtes Rousses are masterful expressions of the Savoie terroir. Les Montagnes Rousses is a Mondeuse cuvee with seductive notes of black cherries, violets, and spices, alluding to the red clay soils of the vineyard. Côteau de la Mort, another Mondeuse, is made from a historic, steep vineyard, resulting in a wine with robust tannins and Chartreuse-like herbal hints. Piste Rouge is an exciting blend that changes every vintage, showcasing the adaptability and creativity at the heart of Domaine des Côtes Rousses. 

The whites include La Pente made from Jacquère, which boasts a dynamic mouthfeel with low alcohol levels, perfect for warm summer days. Armenaz, another Jacquère cuvee, hails from a single high-altitude vineyard, offering complex Sicilian lemon flavors intertwined with a saline twist, demonstrating the richness of the ferrous clay soils. The Altesse-based Ensemble, dedicated to the community around the domaine, combines weight and freshness, balancing well with the slight reduction brought by the sandstone amphoras.
With such a collection, Domaine des Côtes Rousses represents a singular vision of winemaking in Savoie, showcasing the region's unique and expressive wines.