2017 Domaine Lesuffleur Cidre Friardel
#145777811
Add to Favorites
Ridiculously low 2-day shipping. Add to cart to calculate cost.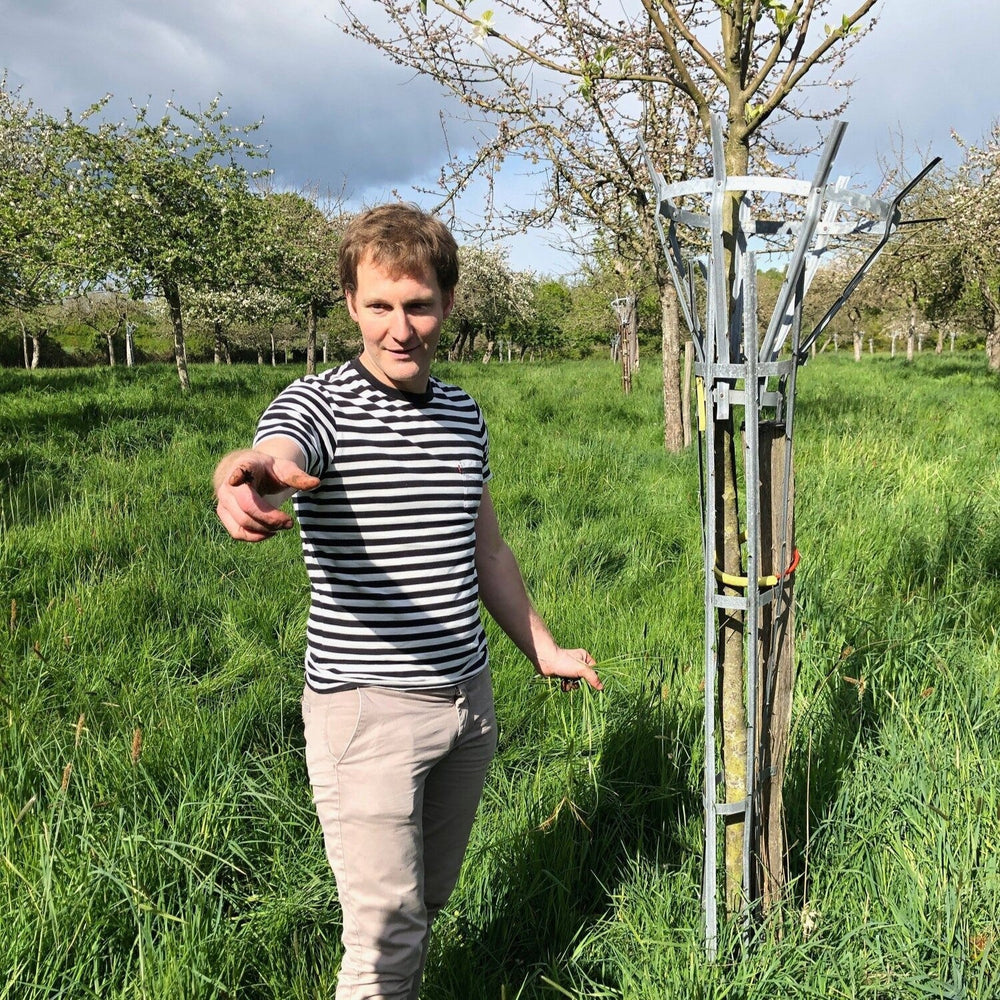 Carrying forward generations of apple cultivation in Normandy, Benoit Lesuffleur has redefined the family craft, bridging the gap between cider-making and wine production at Domaine Lesuffleur. From the influence of his grandfather, the first to commercially produce the family's cider, to his exposure to top winemaking estates in his successful wine agent career in Paris, Benoit revived his childhood passion for cider-making in a unique fashion.

Working tirelessly on weekends, Benoit revitalized the family orchards starting in 2012, focusing on organic practices and heritage apples and pears. Positioned within the clay valleys of Pays d'Auge, the orchards thrive on a unique flint terroir over chalk clay, contributing to the cider's rich tannin profile. This emphasis on organic farming will be officially recognized with an organic certification in 2023.

Committed to biodiversity, Lesuffleur has reinvigorated the Friardel orchard through massale selection and the introduction of bee hives, while dairy cows contribute to the ecosystem's sustainability by grazing on the land. A focus on hand-picking and meticulous sorting prior to pressing reflects the family's dedication to quality. The cider's distinct personality further evolves through indigenous yeast fermentation, employing the traditional keeving method for long, slow fermentation and bottle aging on lees.

Benoit is revolutionizing cider-making, treating it with the gravitas of winemaking, from farming and blending to production methods. His offerings, such as La Folletiere and Friardel, each expressing a unique balance of apple varieties, are a testament to his expertise. Each is a meticulous blend of over a dozen apple types from the Lesuffleur orchards, striving for that perfect harmony between sweet, bitter, and sharp profiles.

With a 20-hectare estate in La Folletière-Abenon, Normandy, yielding only 15,000 bottles annually, Domaine Lesuffleur emphasizes quality over quantity. Over 40 heritage apple and pear varieties, such as Rambeau, René Martin, and Binet Rouge, lend unique flavors to the cider, aged for up to 30 months on fine lees in the bottle. The resultant product is a cider with power and complexity, freshness and depth, carrying the unmistakable imprint of the fruit it came from. The distinctive style of Domaine Lesuffleur positions it as a rising global star in cider-making.