2017 Domaine Rouchier St. Joseph Luc
#120527616
Add to Favorites
Ridiculously low 2-day shipping. Add to cart to calculate cost.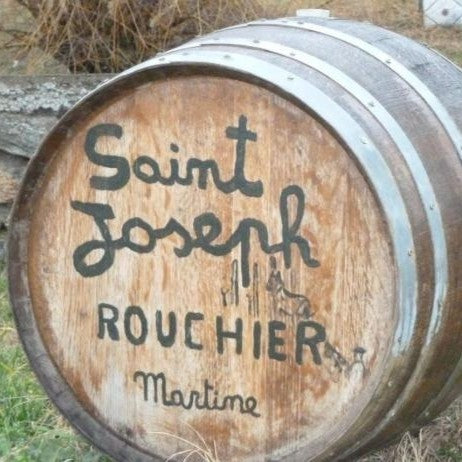 Nestled within the Saint-Joseph appellation in Ardèche, Northern Rhône, is the 1.5-hectare Domaine Rouchier. The family-owned vineyard, managed by Martine and Christian Rouchier, shifted from supplying grapes to local négociants to crafting their own wines in 2010. They ushered in an era of organic viticulture, achieving complete conversion by 2013 and expanding to biodynamic farming and natural winemaking by 2015, notably making their Saint Joseph entirely without sulfur.

The Rouchiers cultivate two distinct 100% Syrah cuvées: Luc and Chave. Luc stems from a .5-hectare parcel planted in 1972 on the St-Jean de Muzols hillside, 250m high with a west-facing exposure and a soil composition of clay and schist. On the other hand, Chave hails from a 1-hectare plot planted in 1958 with granitic gneiss soil dominating its west-facing landscape.

Both cuvées undergo two weeks of whole-cluster fermentation in concrete with indigenous yeasts, coupled with periodic punching down (pigeage) and pumping over (remontage). Post-fermentation, the wine is aged for 16-18 months in neutral oak barrels (5-9 years old) with a 228L capacity, then bottled unfiltered and without any sulfur.

As global recognition grows for their minute volume yet strikingly complex wines, Domaine Rouchier is emerging as a leading Northern Rhône wine producer. Their organic and biodynamic vineyards, meticulously managed by hand and horse, yield some of the most authentic representations of St Joseph, showcasing the vineyards' terroir. The wines exude an impressive balance of approachability in youth and aging potential, exhibiting an underlying layer of savory complexities and tertiary notes. With little to no human intervention, the natural biological activity of the soil is undisturbed, emphasizing a hands-off approach and yielding wines that reflect the nuanced subtleties of the Luc and Chave sites. This is truly a testament to Rouchier's mastery of the craft.