2018 Domaine de la Touraize Arbois Terres Bleues
#146369645
Add to Favorites
Ridiculously low 2-day shipping. Add to cart to calculate cost.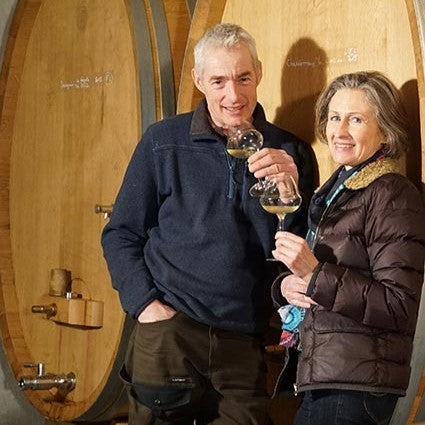 Steeped in tradition and innovation, Domaine de la Touraize, located at the entrance of Arbois in the Jura region, is an emblem of viticultural excellence. Spearheaded by André-Jean and Héléana Morin, the estate is a historical testament to eight generations of skilled viticulture. The Morins' commitment to their family's legacy has led them to forgo the cooperative model, focusing instead on creating unique wines under their own label.

Their 12-hectare vineyard is an organically certified and biodynamically managed treasure trove. Several vine plots have been nurtured by the family for over three centuries, leading to a rich combination of vines, some as old as 80 years. Every vine is treated with manual and mechanical cultivation, a testament to the Morins' belief in holistic and sustainable farming. Treatments include minimal sulfur, copper, and biodynamic preparations but no weedkillers, preserving the health of the soil and its microorganisms.

This mindful approach extends into the cellar, where each cuvée is treated with minimal intervention. Grapes undergo spontaneous fermentation using indigenous yeasts, a practice reflective of their commitment to natural winemaking. Wines are aged between 9 and 24 months on lees, with minimal addition of sulfur. The Morins avoid fining or filtration, maintaining the authenticity of their wines.

The Domaine de la Touraize's offerings are a testimony to the diversity of their vineyard holdings. The Arbois Les Moulins, a white blend predominantly Chardonnay with a touch of Savagnin, exhibits a perfectly balanced profile, its saline finish making it a perfect pairing for seafood. Their Arbois Savagnin offers an accessible entry into the world of oxidative wines, boasting a nutty aroma. The Arbois Pinot Noir On the Coast is a refreshing and fruit-driven red wine with cherry, strawberry, and raspberry notes. Savagnin Terres Bleues further displays their commitment to expressing terroir in their wines, exhibiting unique characteristics of the Jura region, with notes of apricot and pineapple, touches of grapefruit, and bright notes of minerals, with a touch of dry herbs.

It's this combination of tradition, innovation, and a deep respect for the land that makes Domaine de la Touraize's wines a noteworthy addition to any wine enthusiast's collection.