2018 Domaine Drouhin-Laroze Musigny
#173274943
Add to Favorites
Reviews 96-98 points Vinous "It has a compelling bouquet of intense blackberry, raspberry and floral aromas that seem to explode from the glass. The palate is very well balanced with fine, supple tannins. I adore the symmetry of this Musigny and the panache it exudes toward the very long finish. (NM)" 90-92 points Burghound "Very generous wood again fights with the spicy and ripe red and dark currant aromas that are cut with pretty floral wisps. There is excellent richness to the punchy and wonderfully textured medium weight flavors that flash good minerality on the somewhat dry and spiky finish that avoids being tough.... (AM)"
Ridiculously low 2-day shipping. Add to cart to calculate cost.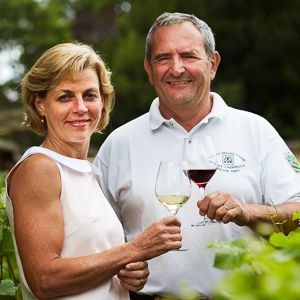 Domaine Drouhin-Laroze, nestled in the heart of Gevrey-Chambertin, represents the embodiment of dedication and vision. For 163 years, the Domaine has been meticulously managed by six generations, now steered by Philippe and Christine Drouhin alongside their children, Caroline and Nicolas. The legacy is distinguished by a daring gamble to secure hillside vineyards, now sprawling across 11.50 hectares, reflecting an emblematic diversity of terroirs, and featuring some of the most prestigious appellations.

Philippe Drouhin returned to the estate in 1974 after studying at Lycée Viticole with a passion rooted in viticulture since his youth. His determination to deliver exceptional wines representative of the quintessential terroirs and the unique essence of the Pinot Noir grape has led him to adapt ancestral techniques to suit contemporary constraints. These techniques include early cluster thinning, thorough leaf removal, meticulous hand-picking, and regular between-row tillage.

Moreover, the vinification is driven by the meticulous and traditional process that respects the quality of the grapes harvested after an entire year's work. Systematic sorting before fermentation in their modern vat hall ensures optimal grape quality. An 18-month maturing process is observed, infusing elegance, power, finesity, and aromatic opulence in their wines.

Their expansive vineyard holdings consist of six different grand crus, including Chambertin Clos de Bèze and Clos de Vougeot, and four premier crus in Gevrey-Chambertin. Notably, the unique premier cru, Au Closeau, covers 80% of the small 0.53-hectare area.

Their exceptional terroir culminates in exemplary wines such as Musigny and Chambertin Clos de Bèze. The Musigny parcel, for instance, a mere 0.12 hectares, is cultivated on a shallow, clay-rich soil, yielding a delicate, deep magenta wine with vibrant notes of wild rose, blackcurrant, and raspberry. Chambertin Clos de Bèze, often referred to as the King of Wines, bears an intense purple hue, offering an array of small red fruits and licorice aromas.

In the heart of Burgundy, Domaine Drouhin-Laroze exemplifies the timeless elegance and complexity that is the essence of the region's wine, a testament to their profound commitment to the craft. Their wines, a harmonious blend of traditional processes and modern techniques, mirror the family's dedication to quality, solidifying their reputation as the finest ambassador of Burgundy wine.