2018 Vouette et Sorbee Champagne Blanc d'Argile Extra Brut
#167113185
Add to Favorites
Ridiculously low 2-day shipping. Add to cart to calculate cost.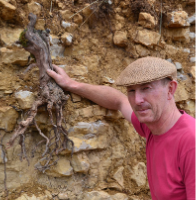 Vouette et Sorbee was founded in 2001 by renowned biodynamic vintner Bertrand Gautherot. The vineyards are located in the village of Buxières-sur-Arce, across three parcels: Vouette, Sorbée, and Biaunes. The vineyards are cultivated in Kimmeridgian soil, a chalky, mineral-rich terrain that lends the wines a distinctive flavor profile. This soil shares common characteristics with the marls of Chablis' premier and grand cru vineyards. Further enhancing the terroir is the presence of Portlandian limestone in some areas, most notably the Sorbée plot.

Embracing minimal intervention, Gautherot uses only indigenous yeasts and abstains from fining, filtering, cold stabilization, and dosage. Such practices allow the wines to mirror the unique traits of the land and grape varieties. Pinot Noir is primarily grown in Vouette and Sorbée, while Biaunes houses both Pinot Noir and Chardonnay.

Noteworthy among Gautherot's cuvées is Textures a rare Pinot Blanc matured in both barrel and clay amphorae, resulting in a wine of complex structure and rich texture. Another standout is Saignée de Sorbée a deeply expressive, whole-cluster fermented Pinot Noir rosé.

Gautherot's dedication to biodynamic viticulture, certified by Demeter since 1998, has made his Champagnes not just exceptional but also greatly valued by connoisseurs. His wines offer intense character, unique aromas, and rich complexity, firmly establishing Vouette et Sorbee as a pillar of originality and excellence in the Champagne world.