2019 Domaine Labet Pinot Noir Cotes du Jura Les Varrons
#171660525
Add to Favorites
Ridiculously low 2-day shipping. Add to cart to calculate cost.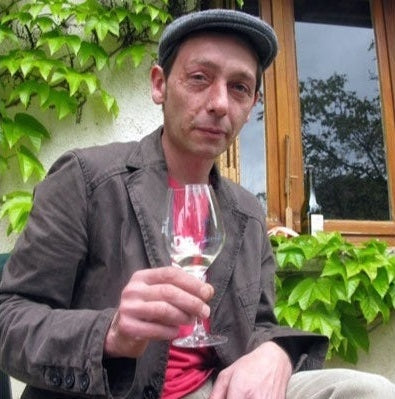 Nestled in the southern Jura town of Rotalier, Domaine Labet is a family-run gem that has been revered among sommeliers and collectors for years for its outstanding terroir-driven wines. Founded in 1974 by Alain and Josie Labet, the domain spans 13 hectares. With a third of the vineyard hosting vines over 60 years old, the domain boasts diverse and venerable plantings. Domaine Labet's vineyards thrive on Bajocien limestone, a rare soil in the Jura, akin to those around Chambertin in Burgundy. The estate is particularly proficient with Chardonnay, cultivating 30-40 massale selections in soils that are congenial to this varietal.
The domain's winemaking philosophy, instigated by Alain and now championed by his son Julien, has been marked by innovation and a dedication to purity. Julien Labet, a venerated winemaker, has had valuable experiences at Domaine Ramonet in Burgundy and Hamilton Russell in South Africa. Since joining in 2003, he has accelerated the shift towards organic practices, resulting in Ecocert certification. The vineyard is currently divided into 45 plots, managed by Julien's brother Romain, while his sister Charline collaborates in winemaking, predominantly for sous voile wines.
The unique limestone running through their vineyards also lends its name to one of the cuvees, Chardonnay Bajocien, one of a small number of wines produced not from a specific vineyard. Instead, it is a blend of sites which give a strong chalky minerality to the fruit. Vines are 30-60 years of age, for a deep, nervy, citrus, and apple-dominated bottle. Chardonnay Les Champs Rouges is also underpinned by Bajocien limestone, with a red clay topsoil. This is one of their larger parcels, with 1.2 hectares of 45-year-old vines. Fermented naturally (like all the wines), it ages largely in demi-muids, with some older barrels. It's a perennial star of the lineup, with vibrant green fruits, a creamy texture, and a firm mineral core.
Chardonnay Lias is another blend, from three sites with vines averaging 40 years of age all grown in blue clay-marine limestone soils of the same name. It ages about 16 months in older Burgundy barrels. There's fruit here (lemon, stone fruits, pear), but the ramrod-straight spine of acidity gives it power and great focus, driving to a lengthy, saline finish.
Fleur de Savagnin is from vines of savagnin vert and jaune, planted from 1947 to 2016. Topped up and aged 22 months in oak barrels and concrete eggs, which brings texture to this zippy grape. Bright, salty, and energetic, this is aromatic and exotic, with a rich texture and a long finish. Some might consider this their top wine.

Cuvee de Garde is a mix of 95% chard and 5% savagnin, 30-60 years of age. Despite an early move to the "ouille" or "topped-up" style, Domaine Labet has always produced exceptional oxidative wines. Charline takes the lead here, aging the blended wine in very old barrels in the traditional sous voile manner, generally about three years. Broad, complex, and savory, with walnut skin and curry leaf notes, this has ample freshness and great finesse.

Gamay may seem like an oddball in the Jura, but Julien claims the grape once made the daily wine of the region. These are massale selections of gamay, with about a third planted in the early 60s, and the remainder in 2016. Fermented via carbonic maceration, then aged 9 months in oak for a bright and lively wine, dark-robed but red-fruited and silky, more Burgundy than Beaujolais.

Pinot Les Varrons shares these sensibilities, with vines averaging 40 years old, grown on a complex mix of varying limestones and flint rocks. Delicate, precise, and elegant with inviting red fruits (pomegranate, berries), grounded with earthy spices and tea, it's pure and long, with fresh acids and fine structure.

Pinot also forms the backbone of the Metis bottling, just under half the blend, with gamay, the nearly extinct enfarine noir (less than 1 hectare planted worldwide) and a mix of native varieties. Sappy, slightly wild, and crunchy, this is crystalline and filigreed, with a melange of detailed red fruits and herbs on a sprightly frame.

Domaine Labet is distinguished by the purity and precision of its wines, which reflect the rich tapestry of the Jura terroir. Combining traditional and innovative winemaking techniques, the wines are vinified using indigenous yeasts, aged in old barrels or ancient foudres, and bottled with minimal intervention. The seamless integration of innovation, tradition, and respect for the land has catapulted Domaine Labet into a preeminent position among Jura producers.