2019 Franck Balthazar Cotes du Rhone
#163722596
Add to Favorites
Ridiculously low 2-day shipping. Add to cart to calculate cost.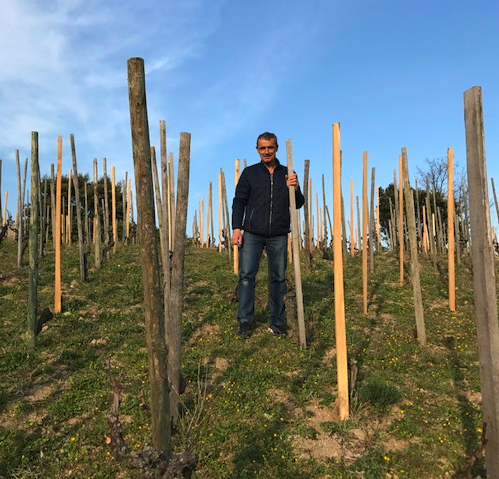 Franck Balthazar is a traditionalist who follows the footsteps of his grandfather and father in making some of the finest wines of the Northern Rhone. He took over the family business in 2002, and since then, he has expanded his 2-hectare family estate to 3.5 hectares. By fermenting each parcel separately, Franck can display the expressive value of his lands. He ferments the grapes with stems intact, some pumping over, and light punch downs. He ages the wine in demi-muid, as they keep the wine's perfumes better than the smaller casks.
Franck's vineyards are exclusively planted with la Petite Syrah, the ancient local clone known for producing a wine of greater aromatic complexity than modern clones. Franck is so dedicated to his traditional methods that he plows his holdings with a horse. His approach in the cellar is just as old-school, with whole cluster, native yeast fermentation in concrete vats, manual cap punching, and bottling without fining or filtration.
Franck has some of the finest vineyard holdings, including a 97-year-old parcel purchased from retired Cornas icon
Noël Verset
, which has created his flagship bottling "Chaillot." Chaillot is praised for its depth, concentration, and complexity, while the "Cuvee Casimir," which Franck named after his grandfather, is more elegant. Both wines are stunning and among the finest of Cornas. Franck has created terraces and planted vines on previously overgrown land on the steep Légre slope above Sabarotte, demonstrating the Cornasien willingness to develop a backbreaking site for the reward of the aromas and flavors that only Syrah grown here can express.
Franck is a purist and a traditionalist who has perfected his method of cultivation and vinification of the Syrah grape, as evidenced by the luxurious, expressive, and elegant wines that he produces. Franck's humility, dedication, and passion are evident in every bottle of wine he makes, and he continues to be one of the greatest producers of the Northern Rhone.