2019 Guimaro Ribeira Sacra Finca Capelinos
#171262948
Add to Favorites
Ridiculously low 2-day shipping. Add to cart to calculate cost.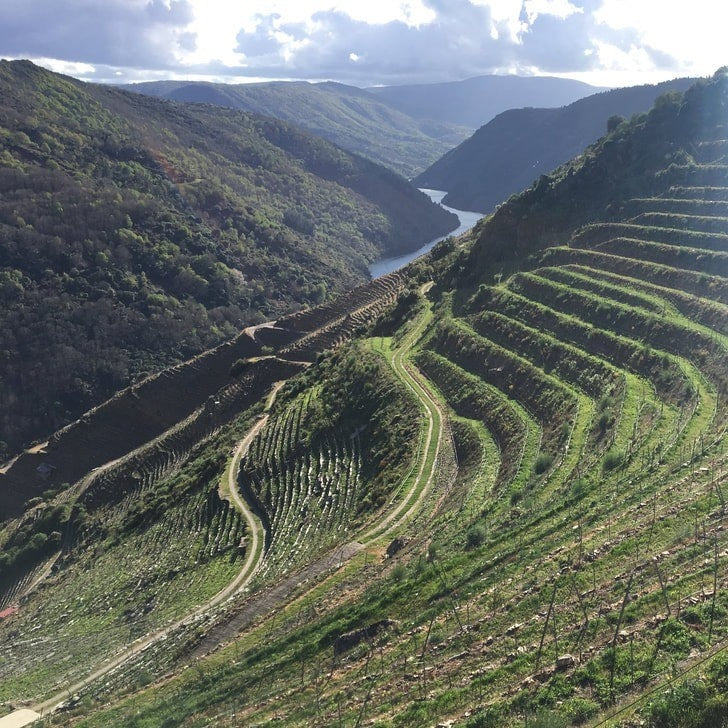 Hailing from the Ribeira Sacra region, an area with a viticulture heritage tracing back to Roman times, Adegas Guímaro has firmly established its footing in the treacherously steep and picturesque terraced vineyards reminiscent of Douro, Cote Rotie, and the Mosel. The winery, under the helm of Pedro Rodríguez, is a testament to spirited determination, optimism, and a deep-rooted sense of tradition and collaboration.
Guímaro, meaning "rebel" in Gallego, is a moniker the Rodríguez family proudly bears, resonating with the area's history of resisting foreign nobles. Pedro and his family, who still manage the vineyards and practice mixed agriculture, are the descendants of a lineage of winegrowers from Amandi, Ribeira Sacra's most favored subzone.
Before 1991, their wine production was primarily for personal consumption, sold locally in 20-liter glass containers. But the Rodríguez family's trajectory was dramatically altered with the assistance of Luis Buitrón, an enologist instrumental in the creation of the Ribeira Sacra D.O. Buitrón's guidance helped the family begin estate-bottling their wines, propelling Guímaro as one of the initial wineries to join the appellation at its inception in 1996.
The early wines of Guímaro were young, simple, and indicative of the lush red fruit and supple texture that the Amandi area is celebrated for. Over time, Pedro, drawing on consultations with renowned Bierzo vigneron
Raúl Pérez
, and his improved farming techniques and nuanced understanding of their different vineyards, saw the bodega's ambition expand.
This ambition has driven Pedro to rekindle the region's historical varieties such as Caiño, Brancellao, Merenzao (Trousseau), Sousón, Godello, Albariño, and Treixadura, thus crafting wines that are unique expressions of Ribeira Sacra's terroir. Their dedication to these old, local varieties is not only an integral part of Guímaro's ethos but also a strategic response to the rising temperatures and vintages trending towards ripeness, as these varieties ripen slowly and retain acidity even in hot vintages.
The winemaking approach of Adegas Guímaro is a blend of tradition and innovation. They use wild yeast fermentation, foot treading in open-top vessels, stem inclusion, and low sulfur additions, with fermentation and aging in used foudre for their single-vineyard wines, resulting in some of the most distinctive and age-worthy wines produced in Ribeira Sacra.
Among their portfolio is the
Blanco
, an un-oaked Godello from multiple plots planted on slate, granite, and sand;
Cepas Viejas
, from Pedro's oldest Godello vines;
Tinto
, from various plots of Mencía vines; and
Camiño Real
, a hand-harvested blend from a 6-hectare plot in Amandi. Guímaro also offers single-vineyard wines such as
A Ponte
,
comprised of Mencia, Sousón, Brancellao, Merenzao, and Caiño grown on granite, slate, and sand; 
Finca
Meixemán
, from a single 1.2 ha plot -facing south-east- of 70 year old Mencía vines planted on schist at 400-450 meters; 
Finca Capeliños
, this gets the same vinification as the Meixeman with foot-treading, partial whole cluster fermentation in open top foudre, extended maceration on the skins and stems, and aging for at least 12 months in old French barrique; and
Finca Pombeiras
, the adega's only cuvee fermented entirely with whole grape clusters.