2019 Nicolas Jacob Poulsard Cotes du Jura Les Chazaux
#169577810
Add to Favorites
Ridiculously low 2-day shipping. Add to cart to calculate cost.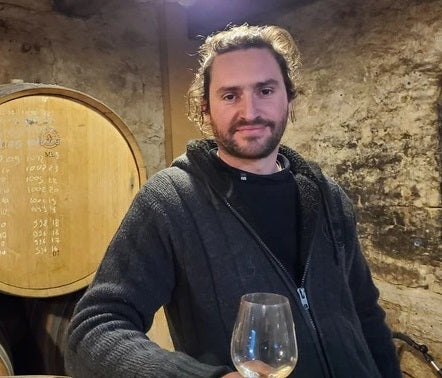 A seasoned vintner with roots in the Jura, Nicolas Jacob initially honed his green thumb in local organic vegetable farms before he became enthralled with winemaking. Driven by an innate ability to find the finest teachers in the region, he apprenticed with the renowned Laurent Macle at Domaine Macle, absorbing the art of creating exquisite traditional oxidative Jura wines. The pursuit of expertise led him to Jean-François Ganevat's vineyards, where Jacob became a vital part of the Domaine, mastering vineyard management and vinification.

In 2015, Jacob set out to cultivate his unique winemaking approach, drawing inspiration from his enriching experiences, especially chez Ganevat. He purchased slightly more than a hectare of land in L'Etoile, fostering Chardonnay, Pinot Noir, and a touch of Savagnin. In line with his mentors' traditions, Jacob's winemaking style reflects a commitment to natural fermentation, minimal SO2 use, extended aging, and a rather intriguing penchant for crafting extraordinary micro-cuvées to capture the terroir's nuances.

Expanding his winemaking enterprise, Jacob independently acquired a quaint winery in Cesancey in 2019, along with over 5 hectares of vineyard holdings encompassing a 3.5-hectare plot in Augea and a one-hectare stretch in Rotalier.

Jacob has quickly established himself as one of Jura's exceptional talents, working meticulously with organic and biodynamic principles in the vineyards to achieve high-quality, concentrated fruit. His wines, made under the labels Les Argales, La Haut, Aux Perrieres, Les Chazaux, Au Mouiller, and 'X,' demonstrate the purity, clarity, and distinction of each unique terroir. Despite only five years into his personal wine production, Nicolas Jacob has ascended as a notable presence in Jura winemaking, with the 2019 vintage being his standout year. His dedication to harnessing the best of the Jura terroir makes his wines worth collecting and relishing.