2020 Domaine Robert Groffier Chambolle-Musigny 1er Cru Les Sentiers
#172395881
Add to Favorites
Reviews 93-95 points Vinous "The 2020 Chambolle-Musigny Les Sentiers 1er Cru is 100% whole bunch this year, matured in 25% new oak. Those stems lend a discrete pepper bass note to the wild cherry and bergamot top notes, well defined and poised. The palate is well balanced with crunchy red fruit, quite saline in the mouth and for a Chambolle, a little angular towards the finish. (NM)"
Ridiculously low 2-day shipping. Add to cart to calculate cost.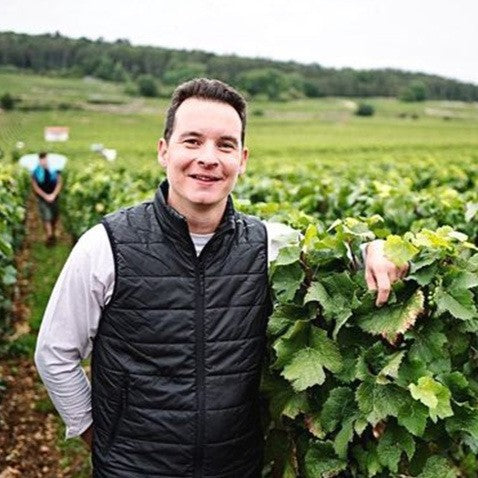 Rooted in the heart of the Côte de Nuits, Domaine Robert Groffier is the embodiment of impeccable Burgundian winemaking. Now under the stewardship of Nicolas Groffier, the grandson of the founder, the Domaine boasts nearly 8 hectares of premier vineyards, including prominent holdings in Bonnes Mares, Chambertin Clos de Bèze, and Chambolle-Musigny Les Amoureuses, where Groffier is the single largest owner.

Their winemaking process is as flexible as it is rigorous. The inclusion of stems in fermentation is decided annually, with the modern approach leaning towards 20% of stems, compared to 50% in the past. This reduction in stems, coupled with a precise cold soak before fermentation, short frequent punch-downs, and an attentive maceration process, all contribute to the extraction of vibrant color and depth of flavor. The wines then age in oak barrels, the proportion of which varies by cuvée and vintage, with the grand crus enjoying up to 100% new oak.

Nicolas Groffier's farming techniques have helped preserve the vineyards from extreme weather, as seen in the 2016 vintage, by delaying bud break using the Cordon de Royat training method. This attention to detail extends to the selection of hand-picked grape bunches in the vineyard, ensuring only the finest quality grapes are used.

Nicolas has also brought a modern touch, reducing the use of new wood and incorporating whole-cluster fermentation when conditions allow. He meticulously tastes the stems for ripeness, with wines like Chambertin Clos de Beze often produced with 100% whole cluster.

Their Bourgogne Pinot Noir exhibits delicate vividness, while the grand cru offerings like Bonnes Mares and Chambertin Clos de Bèze showcase the profound complexity and power derived from old vines and 100% whole-cluster fermentation. The Chambolle-Musigny Premier Cru Les Amoureuses, produced from the domaine's largest holding, is known for its sublime elegance and depth. Their unique vinification approach, combined with diligent viticulture, has resulted in wines of pure vibrancy and minimal oak impact, making Domaine Robert Groffier a stand-out producer in Burgundy.