2020 Julian Haart J.J. Riesling Kabinett
#153056637
Add to Favorites
Ridiculously low 2-day shipping. Add to cart to calculate cost.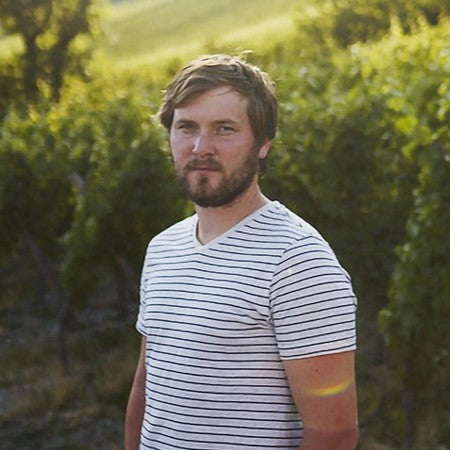 Julian Haart, located in Piesport, Germany, has rapidly risen to become one of Germany's standout winemakers in just a short span of time. Originally trained as a chef, Julian followed his passion and ventured into winemaking in his hometown. His impressive internships at renowned wineries, including Egon Müller, Emrich-Schönleber, Heymann-Löwenstein, and Klaus-Peter Keller, have greatly influenced his winemaking style and techniques. In fact, Julian shares a close friendship with Klaus-Peter Keller, the current winemaker of the highly acclaimed Keller winery.

With just under 5 hectares of vineyards, Julian Haart meticulously cultivates his vineyard holdings, predominantly harvesting the grapes himself along with his wife, Nadine. The vineyards, often situated in challenging locations, offer a collection of exceptional plots boasting vines aged 90 to 110 years old. These precious gems are the foundation for crafting top-quality wines.

Julian Haart has become renowned for his expertise in producing Kabinett wines. These wines showcase an extraordinary balance of intense freshness and an almost weightless structure. Despite their residual sweetness, which typically ranges from 20 to 40 grams per liter, Julian's Kabinett wines exude a lively character that dances effortlessly on the palate, leaving no trace of heaviness or fatigue. This distinctive style of cool climate wines is unparalleled and has garnered widespread acclaim, with Julian's Kabinett wines ranking among the most sought-after and highly regarded in Germany.

In addition to his Kabinett wines, Julian produces expressive late-harvest Rieslings, which possess a creamy texture, remarkable depth, and intricate complexity. Fermented at cool temperatures, these noble sweet Rieslings display an unparalleled elegance and finesse, emblematic of traditional viticulture in the Mosel region.

Another among Julian's notable wines is his 1000L Riesling, sourced from 25-year-old vines in the esteemed Goldtröpfchen grand cru vineyard. Named after the 1000-liter foudre barrel in which it matures, this wine captivates with its refreshing dryness and captivating minerality.

Sipping on a bottle of Julian Haart's wine feels like taking a sensory journey through the soul of Mosel's terroir. These wines, which have garnered admiration both at home and abroad, beautifully echo the meticulous artistry of their maker. Julian has swiftly carved out a reputation for himself as one of Germany's most brilliant winemaking luminaries.