2021 Frank Cornelissen Susucaru Rosato
#171213895
Add to Favorites
Ridiculously low 2-day shipping. Add to cart to calculate cost.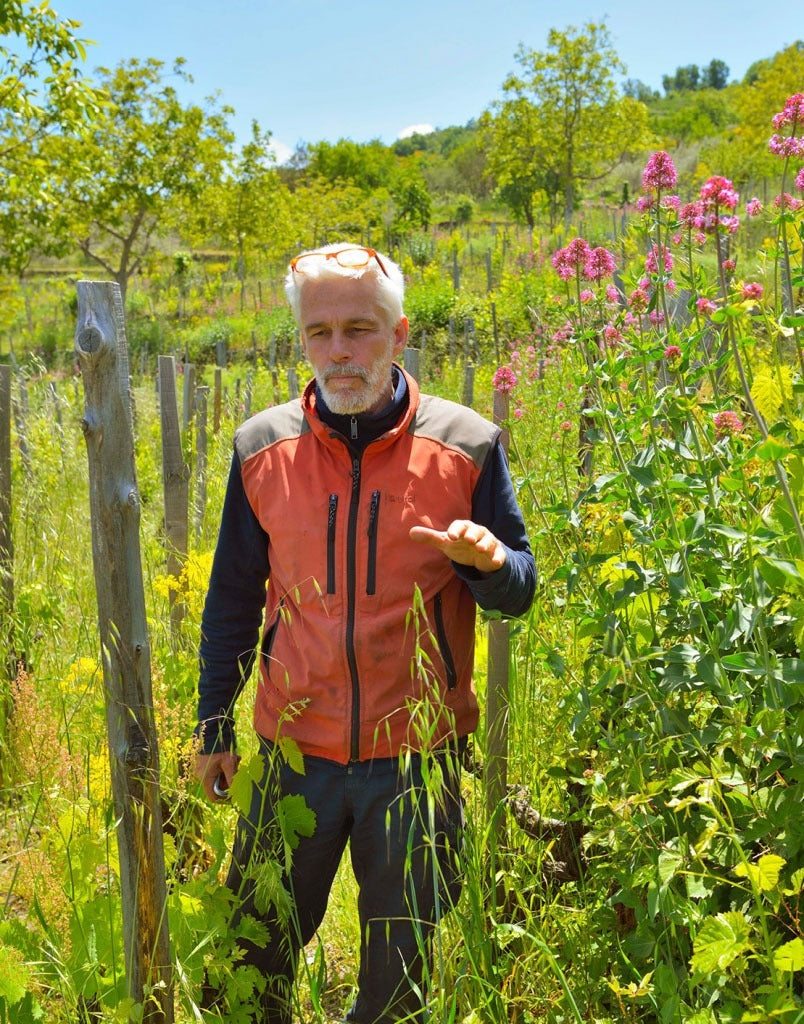 When Belgian-born Frank Cornelissen arrived in Sicily in 2001, the modern story of Mount Etna was just beginning. Frank became part of a pioneering group of winemakers that would thrust these powerful wines into the international spotlight, but it would take heroic efforts to work these abandoned, high-altitude vineyards on the north slope of the island's most active volcano. Pithy descriptions of Frank range from the charitable "uncompromising" to "crazy" (less charitable), but there can be no denying that he is a driven, visionary winemaker. But instead of trying to impose his will, he has chosen to cooperate with the fearsome nature of Etna, showcasing the raw, elemental terroir in the most hands-off manner possible. Two decades later, Frank continues evolving his methods, consistently producing the most evocative, profound, and coveted wines in Etna. These wines are all in stock, including rare large-format bottles!
The quality pyramid starts with the entry-level Susucaru line, which colloquially means "they have stolen it." It refers to an earlier vintage, when locals, seeing late-hanging fruit and thinking the vineyard was abandoned, harvested the grapes, while Frank had been waiting for a deeper maturity. The Susucaru wines have more of a focus on juiciness and drinkability, rather than density and structure. The Rosso is a true field blend, largely Nerello Mascalese, interplanted with other indigenous grapes like Nerello Capuccio and Minella, and outsiders like Alicante Bouchet and Carmenere. Fresh, direct fruit merges with smoky minerals and finessed tannins. The Rosato is of a similar mode, with a blend of white and red grapes strewn throughout the vineyard sites, with Malvasia, Catarratto and others bolstered by Nerello Mascalese. Visually – and on the palate – it functions more like a light red, with wild red fruit and savory tomato skin; delicious and inviting for year-round drinking. Munjebel is the next step up, and entirely made from older Nerello Mascalese vines, both from dedicated vineyards, and from contradas along the north slope which are also vineyard designates in select years. These tend to be the higher altitude sites and have the oldest (and sometimes, ungrafted) vines. Not surprisingly, Munjebel is a powerful, deeply flavored wine, with intense, ripe fruit, prominent smoke and volcanic spice notes, mouth-watering acidity, strong tannins and incredible presence, quintessentially Etna. The top wine, Magma, is also only produced in select years and offers even greater intensity carried on a regal frame. 
To achieve this, Frank has opted to forgo most, if not all, interventions in both vineyard and cellar work, including sulfur, copper, compost and soil work, unless absolutely necessary. Instead, he has cultivated an interplanted, delicate ecosystem of cover crops, olive groves, fruit orchards to keep vines healthy and retain nutrients and water, allowing him to harvest very late. It has taken years to bring the vineyards into balance, allowing the grapes to fully – and transparently – shine in the cellar. Winemaking is fairly consistent throughout the lines, with complete destemming of grapes and some degree of skin maceration, running 10 days for the Rosato, and 30 for the Rosso. With Munjebel and the other top wines, maceration can go 50 days. Natural fermentations are kick-started with pied de cuves, and full Malo encourages stability. Elevage is the other main differentiation, with the early drinkers going into large epoxy tanks and for the more structured wines, smaller tanks or lined terracotta vessels, buried directly into the volcanic rock. He likes the energy these tanks bring to the wine, and the long fruit tannins it generates, allowing for greater development in bottle. And even in these recent warm and dry years, Frank's evolution in techniques has seen raw, brute power cede to a newfound delicacy, aromatic detail and complexity, moving from "liquid rock" to a nuanced expression of Etna.