2014 Domaine Pattes Loup Chablis 1er Cru Cotes de Jouan
#170384692
Add to Favorites
Reviews 93 points Wine Advocate "The 2014 Chablis Cotes de Jouan 1er Cru is matured entirely in barrel. For me, this has a little more precision than the Vaillons, more detail and mineralite developing in the glass. The palate is vibrant from the entry, edgy and tensile; it is very saline with crisp tannin, focused and intense. This is not a Chablis for wimps. This is penetrating and complex, a Chablis that is not going to compromise and will benefit from 2-3 years of ageing. This is just superb. (NM)" 91 points Burghound "A ripe and well-layered nose presents notes of fresh white orchard fruit, sea breeze and algae aromas that display a hint of citrus rind. There is both good vibrancy and detail that works well with the relatively voluminous flavors that are shaped by a moderately firm citrus-tinged acid spine on the beautifully long and complex finale... (AM)"
Ridiculously low 2-day shipping. Add to cart to calculate cost.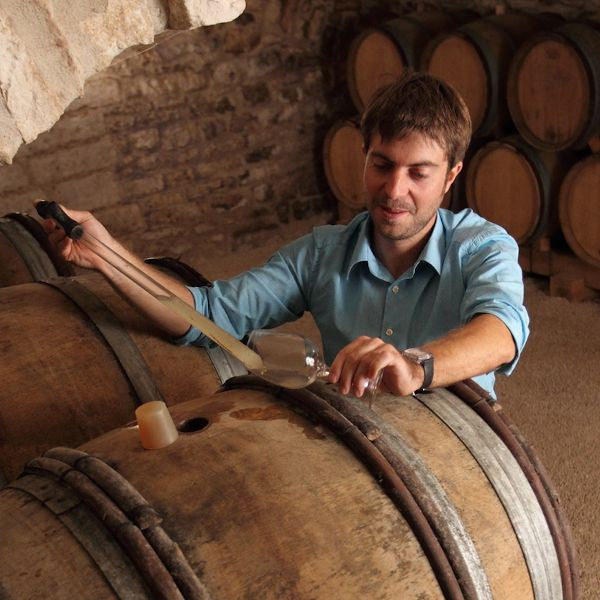 Since its establishment in 2005, Domaine Pattes Loup has rapidly gained a reputation as one of the most thrilling and promising new wineries in Chablis. Thomas Pico inherited 2.4 hectares of vines from his family, which historically produced correct but uninspiring wines. Against his father's wishes, Thomas implemented a program of strict yield control and converted to organic viticulture, which is rare in the inhospitable Chablis region. Under the guidance of
Alice and Olivier de Moor
, Thomas has gradually taken over more and more of his father's vines - the estate now comprises 15 hectares of vineyards, all carefully and organically farmed.
The majority of Pico's vines are selection massale planted by his grandfather on the hillsides near Courgis and Preys, the two highest altitude villages in the appellation, with vineyards up to 300 meters in elevation. Pico experiments with a rotation of cover crops to protect against erosion, increase water retention, and increase microorganisms in his soils. He is committed to hand-harvesting and hand sorting of imperfect berries, and ferments all wines using indigenous yeasts. Pico's commitment to a minimum of 36 months élévage, gives the wines added dimension, texture, and complexity, making them unique in the world of Chablis. All bottling is done without fining and filtration.
Since their establishment, these exact and unadulterated Chablis wines have consistently received rave reviews. Antonio Galloni of The Wine Advocate declared Domaine Pattes Loup as "one of the most fascinating new domaines in Chablis", with Thomas Pico producing "some of the most thought-provoking, uncompromising wines in the region." We suggest you take your time with these remarkable Chardonnays and allow them to reveal their mineral, and brine-y, citrus flavors layer by layer as a reward for your patience.